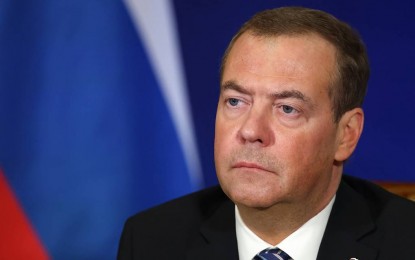 MOSCOW – Kyiv's drone attack on the Kremlin has left Russia with no options other than the physical elimination of Ukrainian President Vladimir Zelenskyy "and his clique," the deputy chairman of Russia's Security Council, Dmitry Medvedev, said on his Telegram channel on Wednesday.
In a comment on Kyiv's actions Medvedev wrote: "After today's terrorist attack, there are no options left other than the physical elimination of Zelensky and his clique."
Ukrainian President Vladimir Zelensky, according to Medvedev, "is not even needed for signing an instrument of unconditional surrender."
"Hitler, as is known, did not sign it either. There will always be some substitute," Medvedev wrote.
Earlier, Russia said there have been attempts to attack the Kremlin residence of the Russian president through the use of drones.
The Russian military and special services promptly put them out of order. No one was harmed.
The Kremlin sees this as a planned terrorist attack and an attempt to kill the Russian president.
Russia said it reserves the right to retaliate at the right moment and the way it finds appropriate.
Meanwhile, Ukraine has vehemently denied any involvement in the alleged attack on the Kremlin, which the Russian presidency defined as a "terrorist" attempt by Kyiv.
"As (Ukrainian) President (Volodymyr) Zelenskyy has repeatedly stated, Ukraine directs all available forces and funds to the liberation of its own territories, and not to the attack of foreign ones," Ukraine's Presidential Press Secretary Serhii Nykyforov said, according to the state news agency Ukrinform.
Earlier in the day, Kremlin claimed that Ukraine attempted to strike the Kremlin residence with two drones, which it said were shot down.
Following the news of the attempted attack, Moscow banned drone flights in the capital. (Anadolu)