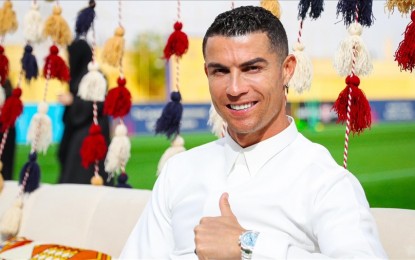 ANKARA – Football superstar Cristiano Ronaldo topped Forbes' list of the 10 highest-paid athletes in 2023 on Tuesday, amassing on- and off-field earnings of USD136 million (PHP7.5 billion)
"Ronaldo leads the way with an estimated haul of USD136 million, including USD46 million from his playing salary and bonuses and USD90 million from endorsements, appearances, licensing income and other business endeavors," Forbes said on its website.
Ronaldo, 38, left Manchester United in November for Saudi Arabia's Al-Nassr in January to augment his revenue.
The football superstar played for his native Portugal in the 2022 FIFA World Cup which was won by Argentina.
Ronaldo, a former Real Madrid, Juventus and Manchester United forward, won local titles with those clubs. He is also a five-time UEFA Champions League winner; four with Real Madrid and one with Manchester United.
Separately, he led Portugal to the UEFA EURO 2016 title.
He has a contract with Al-Nassr until 2025.

2nd-place Messi earns $130 million
Paris Saint-Germain's (PSG) Argentine superstar Lionel Messi earned USD130 million and was second on the list.
Messi, 35, was a longtime Barcelona forward until his move to PSG in 2021.
In December, Messi guided Argentina to the 2022 World Cup title in Qatar, its first World Cup triumph since 1986.
Messi won four UEFA Champions League and 10 Spanish La Liga titles with Barcelona, and claimed a French Ligue 1 title in his first season with PSG.

Mbappe comes 3rd with $120 million
Messi's teammate at PSG, Kylian Mbappe, the 24-year-old French forward, was third on the list, earning USD120 million.
One of the notable forwards, Mbappe won French titles with PSG and Monaco, and won the 2018 World Cup with France.
Basketballer LeBron James, boxer Saul Alvarez in top 5
LeBron James from the Los Angeles Lakers and Mexican boxer Saul "Canelo" Alvarez round out the top five on the list.
James, 38, a four-time NBA champion, earned USD119.5 million. Fifth-place Canelo worked for USD110 million.
Canelo won 58 of 62 fights. He won 39 matches by knockout. The 32-year-old lost and drew twice.
Meanwhile, Swiss tennis legend Roger Federer was among the top 10 highest-paid athletes even though he retired in 2022.
A 20-time Grand Slam champion, Federer, 41, earned USD95.1 million, according to Forbes.
World's 10 Highest-Paid Athletes 2023:
1- Cristiano Ronaldo (football) USD 136 million
2- Lionel Messi (football) USD130 million
3- Kylian Mbappe (football) USD120 million
4- LeBron James (basketball) USD119.5 million
5- Saul Alvarez (boxing) USD110 million
6- Dustin Johnson (golf) USD107 million
7- Phil Mickelson (golf) USD106 million
8- Stephen Curry (basketball) USD100.4 million
9- Roger Federer (tennis) USD95.1 million
10- Kevin Durant (basketball) USD89.1 million. (Anadolu)