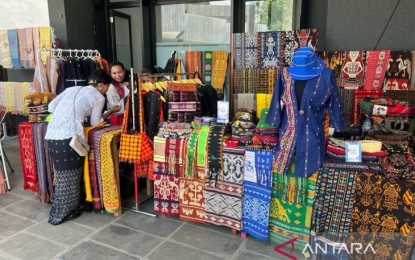 LABUAN BAJO, NTT – Ten top local micro, small, and medium enterprises (MSMEs) will showcase their products at the 42nd ASEAN Summit, which will be held in Labuan Bajo, West Manggarai District in East Nusa Tenggara Province (NTT) on May 9 to 11, a local official said here Friday.
"We have received an instruction from the central committee to select and prepare the 10 finest MSMEs to partake by presenting their products at Meruorah Hotel (the summit's main venue). They come from different regions in NTT," Head of the West Manggarai Cooperative, MSME, Manpower, and Transmigration Office Theresia Asmon told ANTARA.
The 10 MSMEs will showcase their finest range of handicraft items, ranging from woven fabrics, clothing, and other accessories. In addition to artworks, they will serve various typical foods and beverages of West Manggarai.
According to Asmon, all chosen business actors will indeed serve their finest products, as they all have experience in international-level events.
She believes that by participating in such an event, business actors and craftsmen will be able to boost their confidence that in turn will encourage them to further improve the quality of their products.
Regarding other MSMEs that were not selected to participate in the main event, Asmon noted that they still have the opportunity to do so while saying that "they can join in other side events, there are other events."
She spoke highly of the importance of the upcoming event, saying that it would provide a type of free promotion for local MSMEs to showcase their products to the world.
Asmon also lauded the government for its efforts in facilitating the MSMEs' activities and encouraging them to be more confident, so that they can upgrade their businesses.
"This is a priceless momentum that in turn will attract many more international events to take place in Labuan Bajo. In future, we have to be more enthusiastic, as I believe that Labuan Bajo will host many other valuable events," she said. (Anadolu)