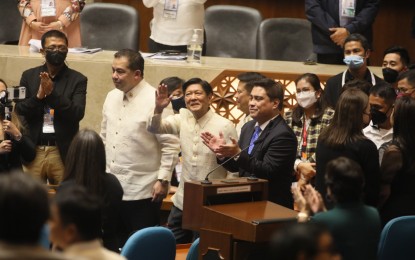 MANILA – House Speaker Ferdinand Martin Romualdez on Sunday vowed for the swift passage of 11 additional legislations, bringing to 42 the total number of priority administration measures.
Romualdez said the bills include Amending the AFP (Armed Forces of the Philippines) Fixed Term bill, which has been transmitted to President Ferdinand R. Marcos Jr.; Ease of Paying Taxes; Maharlika Investment Fund; Local Government Unit Income Classification; Amendment to Universal Health Care Act, which were already sent to the Senate; Bureau of Immigration Modernization; Infrastructure Development Plan/Build Build Build Program, which is now for committee report preparation; Philippine Salt Industry Development Act; Philippine Ecosystem and Natural Capital Accounting System; National Employment Action Plan; and Amendment to the Anti-Agricultural Smuggling Act, which is under committee/technical working group meeting.
"President Marcos Jr. approved 11 bills designed to address key issues on public health, job creation, and further stimulate economic growth as part of his administration's priority legislation. These measures will be the focus of our legislative efforts when Congress resumes session this Monday," he said in a statement.
Romualdez accompanied Marcos during his five-day official visit to the United States and Saturday's coronation of King Charles III and Queen Camilla in Great Britain.
Romualdez said the leadership aims to approve the remaining eight Legislative-Executive Development Council (LEDAC) priority measures from the original 31 bills before the sine die adjournment of Congress on June 3.
"It will be on a best-effort basis. We will try to pass the remaining eight bills from the original priority list. If we could do that, we would have approved all the urgent measures identified by President Marcos in less than a year," he said.
Senate President Juan Miguel Zubiri, on the other hand, said among their priorities are bills on the proposed PHP150 daily wage hike, Virology Institute, E-Commerce, Salt Industry Development and Revitalization, Maharlika Fund and Medical Reserve Corps.
In a radio interview on Sunday, Zubiri said he expects to end all deliberations during the last week of May and ratification before the adjournment.
On the wage hike, Zubiri said majority of senators expressed support for the bill.
He said top companies can afford the hike while gradual increase may be implemented by micro, small and medium enterprises.
"Kumikita naman sila ng PHP500 million pataas bawat taon at may mga tax incentive na sila (They are earning at least PHP500 million and have tax incentives)," Zubiri said of top-tier corporations.
On the Maharlika Fund, Zubiri said it will be passed by the first week of June and assured amendments to safeguard the investments.
President's agenda
Romualdez said the proposed pieces of legislation support the President's Agenda for Prosperity and his eight-point socio-economic roadmap.
"They are intended to sustain our economic growth, hasten the country's digital transformation and speed up the delivery of public services to our people, among other objectives," he added.
The original eight remaining State of the Nation Address (SONA) - LEDAC priority measures the House is aiming to approve in the homestretch of the first regular session of the 19th Congress are the bills establishing regional specialty hospitals; enabling law for the natural gas industry; National Land Use Act; Department of Water Resources and Services and creation of Water Regulatory Commission; Budget Modernization Act; National Defense Act; amendments to the Electric Power Industry Reform Act; and the bill on a unified system of separation, retirement, and pension for uniformed personnel.
New laws
A total of 31 proposed laws have been originally listed by the President in his first SONA in July last year and later adopted by the LEDAC.
Two of the 31 are now laws -- the SIM (subscriber identity module) Registration Act and the postponement of the Barangay and Sangguniang Kabataan elections from Dec. 2022 to Oct. 30 this year.
The House also approved 20 on final reading.
Another bill, the proposed Agrarian Reform Debts Condonation of unpaid loans, interest, and penalties of thousands of agrarian reform beneficiaries, may soon become law.
Congress had ratified the conference committee report containing the condonation bill before the Holy Week adjournment in March. (PNA)