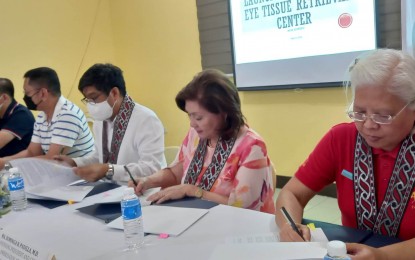 SAN CARLOS CITY, Pangasinan – An Eye Tissue Retrieval Center is now operational at the Pangasinan Provincial Hospital (PPH) following the signing of a memorandum of agreement (MOA) with the Eye Bank Foundation of the Philippines on May 5.
Governor Ramon Guico III, in a statement on Monday, said that while it is "relatively easy" to set up the center, the more difficult part is educating the province's population about the program.
"We will work closely with the foundation, and go to the grassroots to educate, let the people understand the importance of an organ donor," he said.
The PPH Eye Tissue Retrieval Center is the fifth satellite center in the Ilocos Region and 11th in the country apart from 15 hospitals with active tissue retrieval centers.
"The center at PPH will have the whole system - with counseling room, cornea retrieval room, and their own people to do the retrieval," he added.
Eye Bank Foundation of the Philippines founding president/chief executive officer and current ambassador-at-large, Dr. Ma. Dominga Padilla, said the partnership is timely because there is a great need for cornea donors.
In her message during the MOA signing, she said some 12 million people worldwide need cornea transplant every year and only around 150,000 were able to have it.
She added that more hospitals and doctors have realized the importance of an eye bank.
Padilla explained that the whole eyeball, cornea or part of it can be donated.
Anyone over two years of age can be a donor. (PNA)