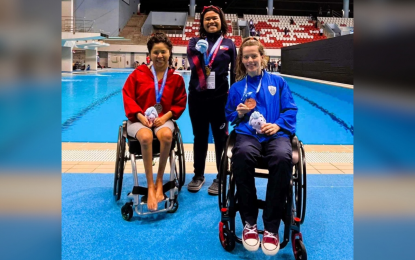 MANILA – ASEAN Para Games triple-gold medalist Angel Mae Otom and Paralympian Ernie Gawilan will carry the national colors in the 11th World Para Swimming Championships scheduled to be held in Manchester, United Kingdom from July 31 to August 6.
The Filipinos earned the trip to the UK through the Minimum Qualifying Standard (MQS) and Minimum Entry Time (MET) set by the World Para Swimming during the Citi Para Swimming World Series held in Singapore from April 29 to May 1.
Otom, who has a congenital upper limb deficiency, topped the women's 50m backstroke in 42.00 seconds. She clocked 49.47 seconds in the 50m butterfly to finish third.
The MQS in the 50m backstroke and the 50m butterfly are 52.66 seconds and 56.15 seconds, respectively.
Otom also qualified in the 50m freestyle (42.76, MQS 45.07) and 200m freestyle (3:53.84, MQS 3:55.34).
"I'm so happy because I won two medals in Singapore although the times I registered were not my best performances," the University of the Philippines freshman taking up sports science said in an interview on Tuesday.
Otom's personal best times are 41.58 (50m backstroke), 48.070 (50m butterfly), and 41.40 (50m freestyle).
"When I learned that I qualified for the worlds, I was shocked. I didn't expect it. It's my first time to swim in the 200m freestyle, too. The opportunity to compete against world-class swimmers in Manchester is something I am looking forward to. I am excited," she added.
Otom was born in Meycauayan, Bulacan but grew up in Olongapo City, her mother's hometown. She learned to swim at a young age because their house was near the beach.
She joined the 2018 Philippine Sports Association for Disabled Athletes (PHILSPADA) National Para Games in Marikina, winning the gold medal in the 100m backstroke. The following year, she became a member of the national team.
Otom won the bronze medal in the 100m freestyle at the 2021 Asian Youth Para Games in Bahrain, which was her first international competition.
She debuted at the 2022 ASEAN Para Games in Indonesia with three gold medals coming from the 50m backstroke (41.58), 50m butterfly (48.070), and 50m freestyle (41.40).
She said qualifying in the World Championships has inspired her, even more, to do well in the Cambodia ASEAN Para Games slated June 3-9.
"I will do my best to keep my three titles, that's the goal I want to achieve in Cambodia," said Otom, who admires five-time Paralympics gold medalist Lu Dong of China.
Tony Ong, who serves as head coach of the national para swimming team, commented, "She has good potential but still quite young. I think she will mature more as years go by."
While Gawilan did not get a medal in Singapore, the times he submitted in the 400m freestyle (5:06.02, MQS 5:16.80), 100m freestyle (1:07.99, MQS 1:08.16), 50m freestyle (32.78, MET 32.86), and 50m butterfly (34.55, MQS 36.67) were enough for him to qualify for the World Championships, his third after competing in Scotland (2015) and London (2019).
Gawilan, who hails from Davao City, saw action at the 2016 (Rio de Janeiro) and 2020 (Tokyo) Paralympics. In 2014, he became the first Filipino gold medalist in the Asian Para Games when he topped the men's 200m Individual Medley in Incheon, South Korea.
"They did very well even though we had a hard time going to the pool," Ong said. "We are hoping that both athletes will have an outstanding performance for the upcoming World Championships, which is also a pathway going to the 2024 Paris Paralympic Games."
Other swimmers who competed in Singapore were Ariel Joseph Alegarbes, Gary Bejino, Edwin Villanueva, Marco Tinamisan, Muhaimin Ulag, Roland Sabido, and Arnel Aba. (PNA)