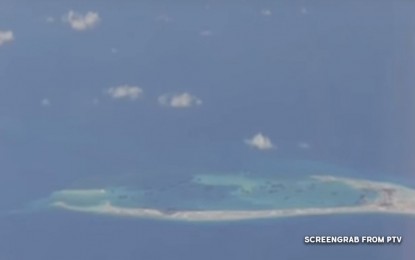 MANILA – President Ferdinand R. Marcos Jr. bared Tuesday that he would urge his fellow Southeast Asian leaders to find a way to ensure the immediate issuance of a "new" Code of Conduct (COC) in the South China Sea (SCS).
On the eve of his participation in the 42nd Association of Southeast Asian Nations (ASEAN) Summit and Related Summits in Indonesia, Marcos hoped that the regional bloc would be able to address the issues hindering the conclusion of negotiations for the COC in the SCS.
"What is the problem? What is the bottleneck? Where are we having a hard time? How can we fix that problem? That's what these meetings should be for. And I think we'll get to that point because everybody wants this to work. Everybody wants to have a Code of Conduct. So, what's getting in the way? Let's talk about it," Marcos said in a media interview.
"I'll bring it up again because when we talked about the issues on the West Philippine Sea [or] South China Sea, hindi magkakalma iyan hanggang meron na tayong Code of Conduct. Kasi may code of conduct, lahat susunod (tensions will not ease until we have the Code of Conduct. If we have the Code of Conduct, everybody will follow)," he added.
Marcos said the long-standing disputes in the SCS would not be resolved, unless there is a COC that would "make things clearer" between the ASEAN and China.
This, as he noted that China's separate bilateral negotiations with ASEAN member-states only make things "complicated."
"Over the years, lahat nakikipagusap sa (everybody is talking to) China... I really believe that we will slowly, slowly get to the point where we can proffer and say this is what we want to look like," Marcos said.
"That (COC in the SCS) makes things clearer. Walang possibility na magkamali kasi maliwanag na maliwanag dapat ang usapan (There should be no possibility of committing mistake because discussion should be clear)," he added.
China, the Philippines and several other littoral states have overlapping claims in the SCS.
Beijing is claiming about 80 percent of the contested waters.
However, the Hague-based Permanent Court of Arbitration on July 12, 2016, ruled against China's supposedly historic rights over nearly the entire SCS.
Marcos acknowledged that the negotiations for the COC in the SCS is "separate from the ASEAN Summit."
"That's not something that will be done here," he said, adding that he has no plan of setting a deadline on the negotiations between the Philippines and China.
Marcos said imposing a deadline is not ideal since there is already a "progress" in the ongoing talks between Manila and Beijing.
"The deadline is when it's done. Because if you set a deadline and it's not done, what then? It doesn't help anything. So, just keep going, keep going, keep going as hard as you can, as much as you can until you get an agreement on the fishing ground," he said.

Taiwan Strait crisis
Meantime, Marcos said the growing tensions in the Taiwan Strait would be "one of the most important subjects" that he would bring up with his fellow ASEAN leaders.
The situation in the Taiwan Strait, Marcos said, is an issue that is "unavoidable."
"Siyempre (Of course), it is a grave concern to all the member-states of ASEAN," he said. "The discussions on that that we have a year ago, in that time, marami nang nagbago (many have changed), many changes have occurred. And that's why we have to really calibrate whatever it is that we are planning to do."
China, which considers Taiwan a breakaway province, firmly opposes any form of official contact between the United States (US) and Taiwan.
The Philippines, like the US, adheres to the one-China principle and recognizes the People's Republic of China as the government of China. (PNA)