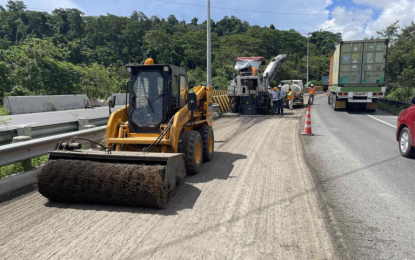 MANILA – Budget Secretary Amenah Pangandaman has emphasized the need to ramp up efforts in addressing the infrastructure investment gap to achieve socio-economic development.
Pangandaman lamented that the Philippines, according to reports, is "two to three decades behind on infrastructure despite the increase in public expenditure."
"I wholeheartedly believe that developing countries like ours need to ramp up its infrastructure to meet its economic and social goals," she said in a May 10 column published in the local newspaper Manila Bulletin. "And so we need to act fast. No more delays. Now is the best time to close that infrastructure gap."
Pangandaman said fast-tracking the completion of the needed infrastructure is not just vital to the country's economic recovery but also plays a crucial role in addressing climate change.
"Climate change, on the other hand, plays a big role in infrastructure planning and development. Everything is interconnected," she said.
Citing the Asian Development Bank (ADB) report, Pangandaman said the estimated total infrastructure investment threshold of the Association of Southeast Asian Nations (ASEAN) is at USD2.8 trillion baseline and USD3.1 trillion climate-adjusted, placing the annual investment need at USD184 billion and USD210 billion, respectively.
Pangandaman, however, said the infrastructure gap figures exclude the additional expenditures associated with climate change "that increasingly impact existing infrastructure in Southeast Asia."
She noted that based on the long-term climate risk index for 2000–2019, the Philippines is among the 10 countries "most affected by weather-related loss events and are most vulnerable to climate-linked risks."
Addressing infrastructure and climate change financing gaps is "possible," Pangandaman said, adding that private sector participation is a "key player" since narrowing the deficits is not the sole job of the government.
She said several financing options include ADB facilities, local or international markets, private sector investments, and climate-related financing innovations.
"I've always believed that it will take a whole-of-nation approach to slow down the risks and effects of climate change. With the continuous help and support of every Filipino, we can work toward climate resiliency to safeguard a sustainable future for our country," she said.
"Beyond budget, financing programs supporting environmentally-sound businesses are imperative. It takes an entire ecosystem that begins with sustainable financing policies to private sector partnerships to realize the emergence of a progressive and resilient future-ready Philippines."
Partnership with local government
Meanwhile, the Climate Change Commission (CCC) strengthened its partnership with the local government of Paete, Laguna to ensure the implementation of plans and programs that are aligned with the national framework and international commitments on climate resilience.
In a separate news release, the CCC said Paete, Laguna Mayor Ronald Cosico had already submitted the local government's Local Climate Change Action Plan (LCCAP) for 2021-2026 and Annual Investment Program (AIP) for 2023.
The LCCAP outlines the local government units' (LGUs) strategies and actions to address climate change impacts on their community, infrastructure, and economy, while the AIP contains their programs, activities, and projects on climate action.
The CCC said it would connect Paete with relevant development partners to further boost its local climate change initiatives.
It said it would also work with the local government to create a "climate-resilient, climate-smart, and sustainable community" in Paete, which could serve as a model for other LGUs in the country.
Paete is one of the LGUs in the Philippines that is regularly affected by climate change impacts, such as typhoons, flooding, and landslides.
After the submission of its LCCAP to the CCC, Paete's local government is now eligible for various technical and financial assistance, including access to the People's Survival Fund (PSF).
The PSF is a domestic funding mechanism that supports the implementation of climate resilience and adaptation programs of local communities in various areas, such as agriculture, water resource management, and disaster risk reduction and management. (PNA)