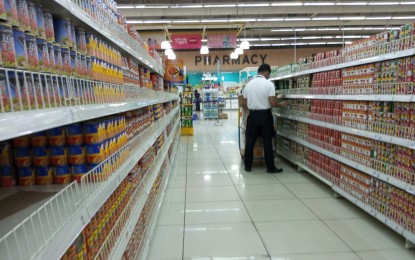 BACOLOD CITY – The inflation rate for all income households in Negros Occidental declined further to 8.8 percent in April from 10.8 percent in March, the summary report of the Philippine Statistics Authority (PSA) here showed.
In February, the province's inflation rate was at 12.4 percent while in January, 12.2 percent.
Meanwhile, this capital city remained at the previous month's inflation rate of 8.7 percent.
"In Negros Occidental, the decrease in inflation rate for the month of April were due to the slight annual decrease in some of the commodities," PSA-Negros Occidental said in its May 8 report approved for release on Wednesday by Luis Gonzales, chief statistical specialist.
These include food and non-alcoholic beverages; alcoholic beverages and tobacco; housing/water/electricity/gas and other fuels; clothing and footwear; transport; information and communications; and recreation/sports and culture.
Food inflation in Negros Occidental's monthly reduction in the seasonally adjusted Consumer Price Index (CPI) for April resulted in a decrease in inflation, at 7.2 percent in April from 10.7 percent in March and 11.8 percent in February.
In terms of annual growth rate, a decrease was noted in some food commodities, such as cereals and cereal products; rice and corn; meat and other parts of slaughtered animals; fish and other seafood; fruits and nuts; sugar confectionery and desserts; ready-made foods and other food products; and non-alcoholic beverages.
The province's non-food inflation posted an average of 9.6 percent, lower than the 10.5 percent in March due to a slight reduction in prices of commodities, such as clothing and footwear; housing/water/electricity/gas and other fuels; and transport.
The CPI provides a general measure of the changes in average retail prices of commodities bought by a specific group of consumers in a given area and a given period.
Inflation is the annual rate of change or the year-on-year change of the CPI expressed in percent and is interpreted in terms of the declining purchasing power of money. (PNA)