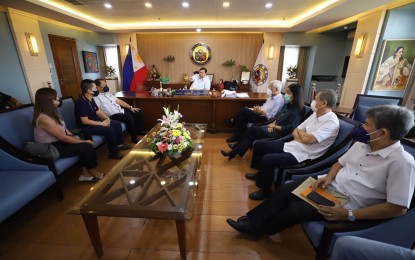 ILOILO CITY – The city government here on Wednesday convened representatives of water utilities in preparation for the drought expected this June.
Mayor Jerry Treñas, in an interview, said the drought is expected to reduce the water supply in over 20 barangays here.
He said that Metro Pacific Iloilo Water (MPIW) is finalizing the restoration of its deep wells expected to provide additional five million liters per day (MLD) next month.
The South Balibago Waterworks, which currently is having problems with its water distribution, has committed to the restoration of its water supply soon.
MPIW supplies more or less 40,000 households in their franchise areas while South Balibago has almost 6,000 consumers in the Jaro district.
MPIW network head Engr. Arjay Chavez, in an interview on Tuesday, said that Flowater was able to deliver its contracted water supply of 20 MLD while Metro Iloilo Bulk Water (MIB) is trying to expand its contracted supply of 50 MLD.
Chavez said they are preparing to deliver through water tankers to 33 streets and barangays considered "critical areas" in the city that are expected to feel the impact of El Niño due to reduced water supply.
Bulk water supplier Flowater has an available supply of 10 MLD but they have yet to discuss how to supply water to the city through the MPIW.
"Those are between the two already. Those are business matters that they will have to discuss among themselves. I will only be the bridge so that they can talk," Treñas said.
The mayor also asked MPIW to reduce its over 40 percent non-water revenue, which is high when compared with the 24 percent industry standard.
On the part of the city government, it will be procuring a tanker and utilizing gray water or domestic wastewater that will be sourced from a cistern in the La Paz district and wastewater treatment plants from hotels and establishments for watering plants.

"If there is no additional water then we will have the scheduling. We all have to go through this," he added. (PNA)