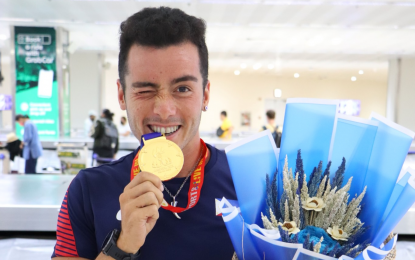 MANILA – Fernando Casares is hoping for the best when he competes at the Asian Games in Hangzhou, China from Sept. 23 to Oct. 8.
The Filipino-Spanish triathlete successfully defended his Southeast Asian Games title in Cambodia last Monday and while he is determined to make an impressive debut in China, getting a podium finish would be hard.
"The level is incredibly high, probably not," said Casares in an interview Wednesday afternoon. "I would love to achieve Top 10 but I'm aware of the level."
He clocked 58 minutes and 33.5 seconds to claim victory in Cambodia, beating Indonesian Rashif Yaqin (58:47) in the 750m swim-20km bike-5km run men's event at the Kep Beach Resort.
Cebuano Andrew Kim Remolino placed third in 59:53 to settle for the bronze, his second medal following a silver finish in the men's aquathlon on May 6.
"Obviously my main goal was to win the gold medal in triathlon since I already won in the last SEA Games in Vietnam, the issue was that this time, the distance was sprint, not standard, so the level was going to be more equal. Throughout the race, I wasn't very sure if I was going to win because the gap between the lead pack and us (Kim Remolino and me) was considerably big after the swim, but we did an amazing job on the bike, closing the gap that much that we almost caught the lead pack before reaching T2 (20" gap). As soon as I started running, I knew I was going to get a podium because I knew very well my rivals, however, I wasn't sure if I could get the gold since Remolino and the guy from Indonesia were the fastest runners along with me," said Casares, who was born in Madrid to a Spanish father and a Filipino mother.
"It took me 2.5km to overtake the leader and once I reached kilometer 3.75, I knew I would win because there was a considerable gap. But unfortunately, I started to feel dizzy because I was going all out, as if I was going to bonk, so it was quite stressing until the last 100m because I didn't know if the Indonesian was going to sprint on the last part," he added.
"Achieving this victory means everything to me, all the hard work I've been doing for months paid off, now I'll be able to keep training as a full-time athlete, thanks to the salary I'll keep receiving from the government, which is quite a relief," he said."But the best feeling about winning the gold medal is the supportive messages I receive from my kababayan (countrymen), it's quite comforting to make everyone proud and to raise our flag to the top."
Meanwhile, Casares will leave for Osaka, Japan next week with three-time SEA Games women's champion Kim Mangrobang. They will compete in the Asia Cup set on May 26.
"It'll be good to get some points for my international ranking. After Osaka, my plan is to go back to Spain to make the most of its weather, since it'll be summer by then. There's so many high-level national races that I can join, and even Europe Cups and World Cups. All these will be my preparation for the Asian Games," said Casares, who joined two tournaments in New Zealand -- Oceania Cup in Taupo, and World Cup in New Plymouth -- as part of his training for the SEA Games.
Triathlon Association of the Philippines (TRAP) President Tom Carrasco had earlier predicted three gold medals.
Aside from Casares, the other gold medalists were Mangrobang (duathlon) and the mixed aquathlon relay team of Erika Burgos, Inaki Lorbes, Kira Ellis and Matthew Hermosa.
Mangrobang also got a silver medal in the triathlon, clocking 1:07:24 to finish second behind Cambodian naturalized entry Margot Garabedian (1:05.34). Singapore's Louisa Marie Middleditch was third (1:07:24).
The Philippines leads the SEA Games all-time medal tally in triathlon, duathlon and aquathlon, with 35 medals -- 15 golds, 12 silvers and 8 bronzes.
Indonesia ranks second with 15 (2-4-9) followed by Thailand 8 (2-4-2), Malaysia 6 (2-3-1), Singapore 9 (2-2-5), Vietnam 5 (2-1-2) and Cambodia 3 (2-1-0). (PNA)