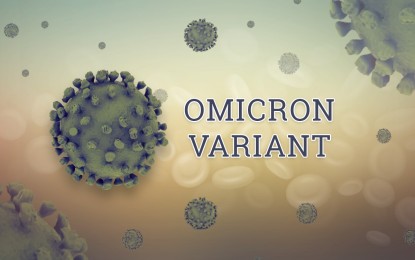 MANILA – The Department of Health (DOH) has detected three more cases of the XBB.1.16 Omicron subvariant called Arcturus bringing to four the total number of confirmed cases, all found in Western Visayas.
In its biosurveillance report released Thursday night, the DOH noted that the cases are part of the 207 samples sequenced by the San Lazaro Hospital and the University of the Philippines-Philippine Genome Center (PGC) Main, Visayas, and Mindanao branches last April 26 to May 6.
"About 159 or 76.81 percent were classified as XBB, including 72 XBB.1.9.1 cases, 35 XBB.1.5 cases, 13 XBB.1.9.2 cases, and three XBB.1.16 cases," the DOH said.
The DOH last month said the first recorded Arcturus case was from Iloilo province but did not exhibit any symptoms and had recovered.
Of the remaining 156 XBB cases, two are returning overseas Filipinos and the rest are local cases from the Ilocos Region, Cagayan Valley, Central Luzon, Calabarzon, Mimaropa, Bicol Region, Central Visayas, Zamboanga Peninsula, Davao Region, Soccsksargen, Cordillera Administrative Region and the National Capital Region (NCR).
"Twenty-seven or 13.04 percent were classified as BA.2.3.20, one case, 0.48 percent as BA.5, 13 6.28 percent as other Omicron sublineages, and one case 0.48 percent as other SARS-CoV-2 lineages," the DOH said.
The detected BA.5 case is a local case from the NCR and the additional BA.2.3.20 cases are from the Ilocos Region, Cagayan Valley, Calabarzon, Western Visayas, Central Visayas, Davao Region, Caraga, and the NCR.
As of April 26, the World Health Organization has labeled BA.2.75, BQ.1, XBB, CH.1.1, XBF, XBB.1.9.1 and KBB.1.9.2 as variants under monitoring, and XBB.1.5 and XBB.1.16 as variants of interest.
The European Centre for Disease Prevention and Control has labeled BA.2.75, XBB.1.5, BQ.1, and XBB as variants of interest; and CH.1.1, and XBB.1.16 as variants under monitoring as of April 20. (PNA)