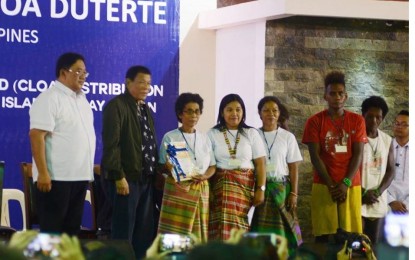 ILOILO CITY – Agrarian reform beneficiaries in Boracay island in the municipality of Malay in Aklan province face the risk of losing lands awarded to them under the Comprehensive Agrarian Reform Program (CARP) during the administration of former President Rodrigo R. Duterte for being "unsuitable" for agriculture.
Lawyer Geony Licera Gregorio, chief of the Legal Division of the Department of Agrarian Reform (DAR) - Western Visayas, said in an interview Friday that protests were filed on the inclusion of several land titles in Barangay Manoc-Manoc under CARP.
Two titles were awarded to the Boracay Tumandok Agrarian Reform Beneficiaries Association (BTARBA) while four certificates of land ownership awards (CLOAs) under collective ownership went to the Boracay Ati Tribal Organization (BATO).
BATO has 44 Ati members while BTARBA has 31.
Gregorio said that under Section 4 of Republic Act 6557 or the Comprehensive Agrarian Reform Law of 1988, an area can be covered by the program if it is an "alienable and disposable land of the public domain, provided these are devoted to or suitable to agriculture".
"The suitability to agriculture of the landholding is an essential requisite to determine whether or not it can be covered under CARP," she said.
Petitioners Digna Elizabeth Ventura alleged that landholdings under lot numbers 7637 Cad 704-D, 6517-A, and 6517-B with a total land area of 21,140 square meters are not suitable for agriculture.
The same contention was raised by the Bohol Regal Inc. for lot 6574 Cad 704 D with an area of 8, 109 square meters; Jeco Development Corporation for lot number 6359 – A Cad 704-D covering 8,000 square meters, and the Y Investments Philippines Inc. for lot numbers 333 and 334 with an area of 2,700 square meters.
Petitioners submitted to the DAR regional office a certification from the Bureau of Soils and Water Management containing observations, stating among others that the areas covered by CARP do not belong within "the Network of Protected Areas for Agricultural Development and Strategic Agriculture and Fisheries Zones, and no longer viable for agricultural production."
They are "highly recommended for Eco-Tourism Zone and or Medium Density Tourist Commercial Zone that will conform with the Comprehensive Land Use Plan of the municipality of Malay," the certification added.
With the certification, DAR Regional Director Sheila Enciso issued an order in favor of the protesters dated March 15 for Ventura, May 3 for Y Investments Philippines Inc., and April 26 for the two others.
They were also directed to file for the cancellation of CLOAs before the office of the department secretary.
The respondents have 15 days to file their motion for reconsideration upon receipt of the order, which BATO obligingly did while DAR has received none from BTARBA.
Once the decision is final, the protesters can already file an application for cancellation of CLOAs and when approved, occupants can be ejected since they are no longer the registered owner, she added.
The DAR lawyer said that based on information from the provincial office in Aklan, BATO has already developed the areas awarded to them but they are not staying there because they have their own Ati Village.
On the other hand, several houses have been built in areas awarded to the BTARBA since their homes that used to stand in Wetland Number 6 were demolished to give way to the Boracay rehabilitation.
"Much as we want to give a lot as our mandate, considering that a certification was issued from another agency and this is an administrative case, so we have to decide based on the evidence presented by parties. And they were able to produce evidence that the area is not suitable for agriculture, which is the main anchor of our program," Gregorio said.
Duterte placed the whole of Boracay under land reform as part of the government's efforts to rehabilitate the island in 2018. (PNA)