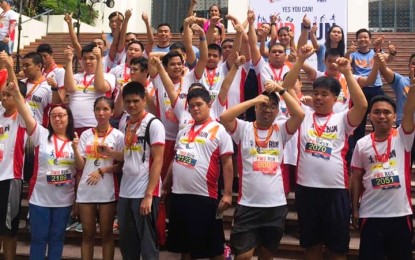 MANILA – National athletes will be among the participants in the second Persons with Disabilities (PWD) fun run at the University of the Philippines (UP) in Diliman, Quezon City on May 28.
The "PWDe Run for Fun," co-organized by the non-profit organization Boundless Possibilities Foundation, Inc. (BPFI) and UP Supporting PWDs in Exercise and Recreation (UP SUPER), aims to raise funds for the "Gentle Giants" livelihood and training program.
The distances are 2, 5, and 10 km.
Jerome Nelmida and Joshua Nelmida (visually impaired), Edison Badillo and Jake Lacaba (leg amputees), and Raul Angoluan (arm amputee) are among the national para-triathlon members who will join the race, along with their guides.
The BPFI was established by parents to prepare their neurodiverse children and others with similar conditions for adulthood.
Medical experts said neurodivergents learn and behave differently because of their atypical brain processes.
"The fun run aims to promote diversity and inclusivity, as well as (a) healthy lifestyle among neurodivergents who tend to be on the heavy side as they age out of school and become sedentary," BPFI chair Jo Palomares said in a statement.
The organizers are urging all PWDs and their families to join or simply support the activity.
The fun run will start and finish in front of Palma Hall.
Assembly time is 5 a.m.
The deadline for registration is on May 20. For inquiries, send an email to [email protected] or text 0929-2899032.
Even non-PWD can join while sponsors are welcome to pay for the registration fees of PWD runners – PHP400 (2 km.), PHP480 (5 km.), and PHP640 (10 km.).
"PWD Fun Run: PWeDe Pala, Heto Kami, Join Kayo," the event's first edition, was held on May 26, 2019, also in UP Diliman, before the pandemic struck. (PNA)