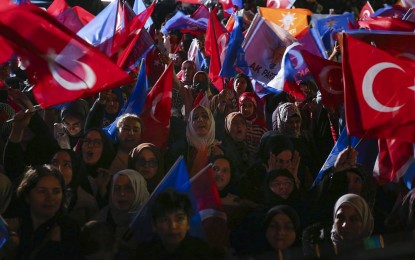 ANKARA – Turkey's incumbent leader Recep Tayyip Erdogan's lead against his challenger from the opposition, Kemal Kilicdaroglu, in the May 14 presidential election has narrowed to 4.35 percentage points after 99.86 percent of ballot boxes were counted, state-run TRT television reported on Monday.
Erdogan has 49.34 percent of the vote, compared to 44.99 percent garnered by Kilicdaroglu. The third candidate, the leader of the ATA Alliance, Sinan Ogan, has secured the support of 5.23 percent of voters.
The gap between Erdogan and Kilicdaroglu stood at less than 4.5 percentage points after 99.2 percent of votes were counted.
The winner in the first round must get 50 percent plus one vote, otherwise a runoff will take place on May 28.
The general elections were held amid tight security in Turkey on Sunday. More than 53 million people cast their votes. (TASS)