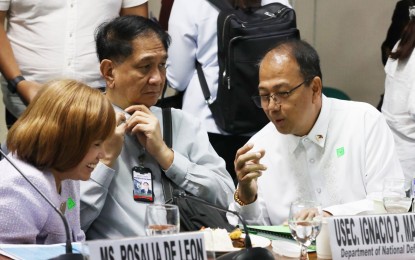 MANILA – The Armed Forces of the Philippines (AFP) is "amenable and open" to modifications in the pension system of military and uniformed personnel (MUP) so long as these are fair and equitable.
Finance Secretary Benjamin Diokno, in a recent statement, warned that the current MUP pension system would inflate public debt by as much as 25 percent by 2030 and could result into a fiscal collapse unless reforms are made.
Diokno said pension benefits are allocated annually through the national budget but the MUP do not contribute a single peso to their pension system.
"We anticipate around 70 to 80 percent of enlisted personnel eligible for optional retirement. Ito po 'yung mga naka-20 years na sa serbisyo (They are those who have spent 20 years in service), to avail the same given the uncertainty of them immediately receiving pension upon retirement should the system be overhauled," Department of National Defense (DND) Officer-in-charge Senior Undersecretary Carlito Galvez Jr. told the Senate Committee on National Defense and Security, Peace, Unification and Reconciliation on Monday.
While the DND and AFP recognizes the financial implications and fully supports measures to address the current MUP pension system issues, Galvez appealed to senators to heavily consider the morale and welfare of the soldiers.
"At present, mere discussions of proposals relating to retirement benefits, most especially the imposition of a pensionable age, has already affected the morale and caused uneasiness not only from within the active ranks of the AFP, but even from our veterans and retirees," he said.
The Senate panel opened discussion on Senate Bill Nos. (SBN) 284 and 1421 filed by Senators Jinggoy Estrada and Ramon Revilla Jr., respectively.
SBN 284 seeks to establish a unified system for separation, retirement and pension of MUP and create the Military and Uniform Personnel Retirement Fund Authority.
Meanwhile, Revilla's SBN 1421 seeks to boost MUP's pension system by creating the Military and Uniformed Personnel Insurance Fund amending Sections 3 and 24 of Republic Act No. 8291 or the Government Service Insurance System (GSIS) Act.
Sections 3 and 24 states compulsory membership in the GSIS and life insurance, respectively, except for members of the AFP and Philippine National Police.
According to data presented by National Treasurer Rosalia de Leon, the unfunded liabilities of the MUP pension system currently amounts to around PHP9.6 trillion or 53.4 percent of the 2020 gross domestic product (GDP).
The economic managers expect this to balloon further in the succeeding years.
For Senator Ronald Dela Rosa, who is also an MUP retiree, the illustration "paints a very grim picture," saying MUP's pension fund cannot possibly cause a fiscal collapse.
"Mahirap kasi 'yung ganon eh. Parang pinapalabas natin dito na yung MUP ang dahilan kung bakit tayo magkakaroon ng fiscal collapse. Klaruhin natin 'yan kung tama ba 'yan na comparison (That's hard to accept. It seems like we are portraying MUP as the cause why we could have a fiscal collapse. Let's clear if that comparison is accurate)," dela Rosa said.
Senator Christopher Go also urged economic managers to find other ways or sources of funds, instead of requiring active MUP to pay for mandatory contributions for pensions.
"Pwede naman po sana ayusin natin ang pagkokolekta ng buwis. Maaaring may pagkukulang pa. Siguraduhin natin na walang mapunta sa korapsyon (We can fix the collection of taxes. Maybe there is deficiency there). I urge the BIR [Bureau of Internal Revenue], the Bureau of Customs to collect taxes and customs duty properly and more efficiently. Eliminating corruption in the government should be enough to cover for the pension requirement," Go said.
"We can also impose higher taxes on luxury goods. Mayayaman naman po ang bumibili diyan. Pwede po nating i-increase ang (Those who buy those are rich. We can increase the) SIN Tax. With this, we can also protect the health of our people," he added.
The filed measures have been referred to a technical working group and discussions will continue after President Ferdinand R. Marcos Jr. delivers his second State of the Nation Address on the last Monday of July.
"I do not want to rush things. There is no room for mistake here. If this committee commits a mistake, either we go for the MUPs, we go for the government, we have to strike a balance. This needs to be acceptable to everybody," said Estrada, the committee chairperson. (PNA)