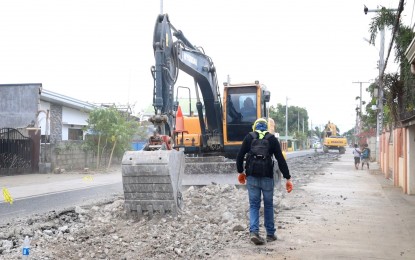 CITY OF SAN FERNANDO, Pampanga – The Department of Public Works and Highways (DPWH) is fast-tracking the rehabilitation of a vital road in Cabanatuan City, Nueva Ecija to meet its deadline by the middle of the third quarter this year.
Engineer Elpidio Trinidad, chief of the DPWH-Nueva Ecija 2nd District Engineering Office, said on Monday that the project on the Bangad-Fort Magsaysay Road in Barangay Patalac, Cabanatuan City is already 47.32 percent complete.
Trinidad said the PHP22.3-million project will make travel safer, reduce congestion, and improve traffic flow along the city's main roads.
"Barangay Patalac, with its over 2,000 residents, heavily relies on this thoroughfare to access several towns and cities within the province and as an alternate route to Fort Magsaysay," he said in a statement.
"The repair of this road section will be of great help to the people, especially to those who are dependent on it to get to their destinations. Our office will exert all efforts to finish this project as soon as possible so that the motorists and commuters can fully benefit from it."
The DPWH has already completed a road project connecting Barangay Burgos in Lupao to Barangay Mangandingay in the Science City of Muñoz, also in Nueva Ecija.
The 2.96-kilometer road serves as an alternative route for those traveling from the city to Talugtug town.
"The newly constructed road will greatly improve the daily commute of stakeholders in the area as it now provides an alternative route for motorists, especially during holiday traffic," Engineer Armando Manabat, chief of the 1st District Engineering Office, said in a previous statement. (PNA)