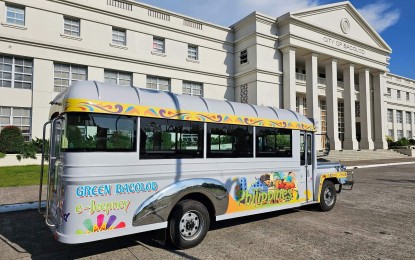 BACOLOD CITY – An electric (e)-jeepney manufactured by China-based Jiangsu Fengchuen New Energy Power Technology Co. Ltd. has arrived in this city for a trial run to determine its suitability as a means of public transportation for Bacolodnons.
Mayor Alfredo Abelardo Benitez said on Monday two more units are expected to arrive soon to be tested by local transport operators.
"The plan is for it to be tested first to see if it is viable, if it is feasible. Our operators will see if it is a better alternative. They will send samples here, this is the first one that has arrived," he said in a press conference.
The vehicle's look or design resembles the Philippines' iconic "Sarao" jeepney to preserve the cultural identity of Filipino public transport.
Benitez noted that the e-jeepney's passenger door is located at the back of the vehicle, which should instead be placed on the side to ensure safety when picking up passengers.
"That is one of the observations that we will communicate (to the manufacturer). We hope to have a perfect sample and we can see the innovation and refinement in the vehicle, and we will come up with something that will be used by the city," the mayor said.
The e-jeepney, which has a capacity of 20 to 22 passengers, will be priced at less than PHP2 million per unit compared to the PHP2.6 million to PHP2.9 million cost of modern jeepneys now operating in the city.
"We're trying to get less than PHP2 million," Benitez said.
For each e-jeepney, fast charging can be done in an hour while slow charging can be up to seven hours, which can last up to 120 kilometers of travel.
In February this year, City Council expressed support for the proposal of Jiangsu Fengchuen New Energy Power Technology Co. Ltd. to partner with the city government for the establishment of an e-jeepney assembly plant in the city.
It also required the Chinese firm to submit a copy of the general information sheet or document authorizing its chairman Li Longde to enter into a memorandum of understanding with the city before it would be ratified by the City Council.
Benitez first met with the officials of Jiangsu Fengchuen New Energy Power Technology Co. Ltd. when he joined President Ferdinand Marcos Jr.'s state visit to Beijing in January.
The Chinese e-jeepney manufacturer is eyeing to invest USD200 million for the establishment of a local assembly plant. (PNA)