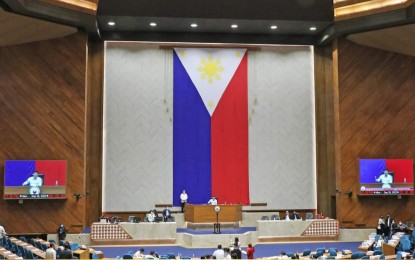 MANILA – Voting 260-0 with no abstentions, the House of Representatives on Monday passed on third and final reading a bill that redefines the crime of illegal recruitment committed by a syndicate which will pave the way for easier prosecution of fraudulent recruiters.
House Bill 7718 amends Presidential Decree 442, otherwise known as the Labor Code of the Philippines, as amended; and Republic Act 8042, otherwise known as the Migrant Workers and Overseas Filipinos Act of 1995, as amended.
If enacted into law, HB 7718 states that illegal recruitment is deemed committed by a syndicate if it is carried out by a group of three or more persons conspiring or confederating with one another, "or if the offenders are non-licensees or non-holders of authority and the act was carried out by two or more persons."
The bill also defines that illegal recruitment by a large scale will be considered an offense involving economic sabotage.
Speaker Ferdinand Martin G. Romualdez hailed the approval of the proposed measure as this would strengthen the government's efforts against illegal recruitment.
This, he said, would give justice to overseas Filipino workers (OFWs) who fall prey to this kind of illegal activity.
"With House Bill 7718, we hope to fight the crime of illegal recruitment further and make it easier for government prosecutors to file and prosecute the crime of illegal recruitment committed by a syndicate in the case of non-licensees or non-holders of authorities," he said in a statement.
Meanwhile, ACT-CIS Partylist Rep. Jocelyn Tulfo said approval of the measure is a vital step towards strengthening existing measures for the protection of the rights of OFWs against fraudulent recruiters.
"Being one of the top labor exporters in the world, we believe that redefining illegal recruitment by a syndicate to cover two or more persons conducting illegal activities will limit the loopholes in the law and intensify our fight against illegal recruitment perpetrators," said Tulfo, who is one of the main authors of the measure.
She urged their counterparts in the Senate to support the measure that benefits the OFWs.
"Our kababayans (countrymen) deserve the support of the entire legislature to craft policies for the protection of their rights, and we are happy to know na suportado ng buong Kamara itong panukalang batas na ito (that the House fully supported this proposed measure). We have to ensure its enactment into law until the end," Tulfo said. (PNA)