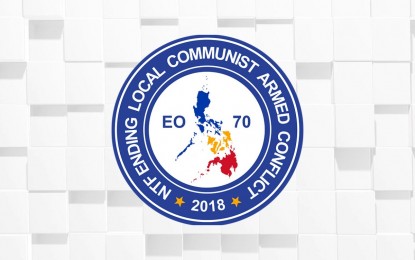 MANILA – The National Task Force to End Local Communist Armed Conflict (NTF-ELCAC) said it would focus on developing communities formerly controlled by communist insurgents to prevent them from staging a comeback in these localities.
In a statement late Monday, NTF-ELCAC executive director Undersecretary Ernesto C. Torres Jr. said this would be their roadmap in "peace-bringing" efforts.
Torres also emphasized the importance of the Barangay Development Program (BDP) and the Retooled Community Support Program (RCSP) as drivers of peace and development in areas formerly affected by the New People's Army (NPA).
"Undersecretary Torres also assured an intensified participation from national government agencies in contributing to the BDP and RCSP," NTF-ELCAC Secretariat Director for Strategic Communications Gerardo Zamudio said.
These efforts are part of the NTF-ELCAC's campaign that will seek the promotion of unity, lasting peace, and sustainable development in the country, he said adding that this "shift from war to peace" is emphasized as the task force is nearing the attainment of its objective of ending the armed conflict.
'Game-changing role of VP'
Zamudio also noted that the appointment of Vice President Sara Duterte as NTF-ELCAC co-vice chair would bring momentum to the body's mission.
"Assistant Director General Jonathan Malaya, NTF-ELCAC StratCom Cluster head, and Undersecretary Torres explained the game-changing role of the Vice President, especially during the NTF-ELCAC's transition to peace-bringing efforts. The Vice President is expected to provide guidance to the operation of the whole NTF-ELCAC, utilizing her experience as the former Mayor of Davao City," he said.
Torres said Duterte was instrumental in the defeat of the NPA in her city as she witnessed and dealt with their atrocities and the aftermath suffered by her constituents.
"She (Vice President) sees this as a commitment to bring about peace in our country," he added.
Torres also elaborated on how the Vice President would strengthen the efforts to protect students from terrorist recruitment through proper education.
"We really have to protect our youth from getting recruited from the deception of the CPP-NPA-NDF (Communist Party of the Philippines-NPA-National Democratic Front), and that is where the role of our VP as the Secretary of DepEd (Department of Education) would come into play," he said.
"We, at the Headquarters of NTF-ELCAC are preparing ourselves to perform our mandate with renewed vigor to harmonize and synthesize the efforts of departments, agencies, and partner stakeholders in bringing the much-needed services to far-flung areas, particularly the conflict-affected and vulnerable areas for CTG (communist terrorist group) exploitation in order to attain genuine peace and sustainable development."
He said this would be done via the whole-of-government approach, whole-of-nation participation, and founded on good governance and unity.
"As the NTF-ELCAC achieves its goals in addressing the root causes of the communist armed conflict, its commitment to ensure the security of the Filipino people will not falter. NTF-ELCAC's dedication to harmonizing the efforts of government agencies toward the attainment of its objectives will not wane despite the weakening of the CTG. Until the CTG's threat has been completely eradicated, NTF-ELCAC will serve as the Filipino people's guardian against their deceptions, crimes, and atrocities," Torres said. (PNA)