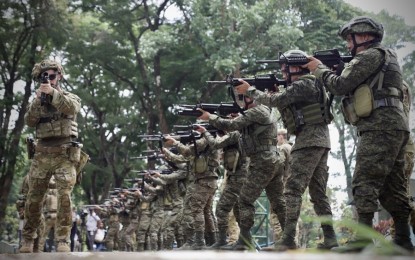 MANILA – The Philippine Army (PA) on Tuesday said Filipino and Australian troopers have formally started their special training for jungle and urban warfare at Camp Capinpin, Tanay, Rizal on Monday.
Army spokesperson Col. Xerxes Trinidad said in a statement that the training is part of the Philippine-Australia Army-to-Army Exercise "Kasangga" 23-2.
Participating troops are from the Australian Defence Force and the PA's 2nd Infantry Division.
"The 114 soldiers from 2ID (Infantry Division) will train side-by-side with 43 Australian soldiers during the bilateral exercises which will culminate on June 23, 2023," Trinidad said.
They will participate in urban operations combat tracking; jungle warfare and survival training; long-range marksmanship; tactical combat casualty care; sensitive site exploitation, intelligence, surveillance, and reconnaissance operations; and small unit leader's training through an exchange of tactics, techniques, and procedures.
Australian defense attaché to the Philippines Col. Paul Joseph Barta said Australian troops expect to learn jungle warfare and survival skills from 2ID soldiers, known by their nickname "Jungle Fighters".
On the other hand, 2ID assistant division Commander Brig. Gen. Augusto Villareal said Filipino troops will be taught urban operations by their Australian counterparts.
The Exercise Kasangga 23-2, an annual bilateral training exercise that is anchored on the Philippines-Australia Defense Engagement Plan, will bolster Army-to-Army ties and interoperability between the two ground forces, Trinidad said. (PNA)