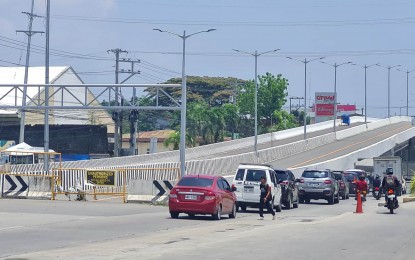 ILOILO CITY – The Department of Public Works and Highways (DPWH) has been urged to expedite the funding and implementation of engineering solutions for the PHP680 million Ungka Flyover in Pavia, Iloilo to ensure its serviceability.
A geotechnical investigation was conducted by the DPWH third-party consultant, Adam Abinasales Engineering and Consultancy (AAEC), after a vertical displacement was noticed on Piers 4, 5 and 6 that eventually led to its closure to traffic almost two weeks after it was opened to the public last year.
The consultant presented before a special meeting by the Infrastructure Development Committee (IDC) of the Regional Development Council (RDC) on Monday a resolution recommending the provision of additional bored piles for the three subject piers, portal frame to support existing pre-stressed girders and reinforce the existing piers and abutments, including bored piles, by intense jet grouting.
"The IDC VI members and stakeholders agreed during the meeting that the ideal engineering intervention is to ensure that the additional piles for piers 4, 5, and 6 reach the bedrock/hardpan," the IDC resolution passed during the meeting and released to the media on Wednesday read.
It added that it shall also conform with the National Structural Code of the Philippines that the piles "must be founded on a stable ground and not just on the basis of soil cohesiveness."
The three piers, as per the report of the consultant, have the highest vertical displacement. Also, they haven't reached the bedrock even if a borehole test up to 50 meters was conducted.
Meantime, the implementation of the engineering design is expected to take approximately 10 months with the budget to be sourced from the savings of the DPWH in the 2023 or 2024 fiscal year.
The consultant said that the fund requirement for the rectification is at least PHP250 million.
On the other hand, Iloilo City Councilor Plaridel Nava said he will be filing criminal and administrative charges against officials of DPWH Western Visayas and the contractor of the project -- Iloilo Builders Corporation (IBC) for violation of Republic Act 3019 or the Anti-Graft and Corrupt Practices Act and Gross Neglect of Duty.
The councilor told the media in an interview that he was expecting the consultant to determine who would be held liable for the project.
They are currently crafting the case to be filed before the Office of the Ombudsman next week. (PNA)