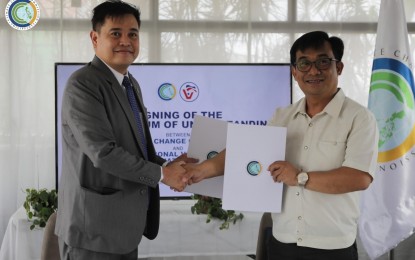 MANILA – The Climate Change Commission (CCC) and the Philippine National Volunteer Service Coordinating Agency (PNVSCA) have signed a memorandum of agreement to maximize volunteerism and community participation in combatting climate change in the country.
In a news release on Wednesday, CCC Vice Chairperson and Executive Director Robert Borje stressed the importance of volunteerism as a tool in building and advancing policies to avoid, minimize and address climate risks.
Borje further explained that volunteerism is crucial in activities that improve community resilience and reduce greenhouse gas emissions.
"We must appreciate that volunteerism should be present not only in times of crisis, but also in fostering holistic formation and development. With this, volunteerism serves as a catalyst for realizing progress and creating a sustainable impact," Borje said.
Under the MOA, the CCC and PNVSCA will jointly organize, support and participate in programs and activities to promote volunteerism in mainstreaming climate change resiliency, aligned with the national government's whole-of-society approach to sustainable development.
The partnership is expected to provide an effective mechanism to ensure that climate change initiatives are integrated across different sectors and communities.
PNVSCA Executive Director Donald James Gawe, for his part, said the partnership will help mobilize more volunteers and stakeholders to support the country's climate change agenda.
"This is also a good opportunity not only to raise awareness, but as we engage more partners from the private sector, civil society organizations, academe, national government agencies, and local government units, this partnership can encourage more stakeholders to create and establish their own volunteering mechanism to build and enhance the climate resilience of their respective communities," Gawe said.
The MOA was signed by Borje and Gawe during a ceremony held at the CCC office in Manila.
Through this collaboration, both agencies will create greater synergy and cooperation among government agencies and other stakeholders towards accelerating the transition to a climate-resilient and sustainable future for the Philippines. (PNA)