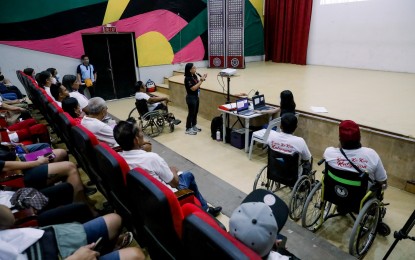 CITY OF SAN FERNANDO, Pampanga – At least 100 persons with disabilities (PWDs) and solo parents in this city will be given opportunities to have a sustainable source of livelihood.
In partnership with the Department of Labor and Employment (DOLE), the city government here launched Wednesday a livelihood program dubbed "Kasama ka sa Pangkabuhayan" for members of the two sectors to integrate them into the economic mainstream through entrepreneurship.
The DOLE allotted some PHP1 million under its Integrated Livelihood and Emergency Employment Program (DILEEP) while the city government set aside PHP250,000 as its counterpart for the implementation of the program.
The beneficiaries will receive PHP10,000 worth of livelihood package each that includes materials and equipment for their desired business.
City Employment Services Division head Meilyn Gallarde said on Thursday that the 100 program beneficiaries attended also on Wednesday an orientation seminar that equipped them with practical business management skills and values necessary for establishing their business venture.
Gallarde also said they trained the program beneficiaries on food safety and hygiene.
She likewise assured that they will continuously monitor and support the beneficiaries to ensure the success of the program.
"By implementing a program for solo parents and PWDs, we are one in recognizing their competence, empowering them, and enhancing their capabilities," she added in a statement. (PNA)