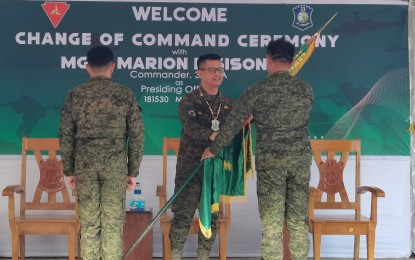 DUMAGUETE CITY – The commanding general of the Philippine Army's 3rd Infantry Division (3ID) has vowed protection not just for victims and families of atrocities but for next-of-kin of suspected assailants in the Degamo assassination and other Negros Oriental killings.
Major Gen. Marion Sison, 3ID commander, gave the reassurance on Thursday afternoon during the turnover of command of the Army's 11th Infantry Battalion at its headquarters in Barangay Salag, Siaton town in Negros Oriental.
Sison said this is part of the continued efforts of the military and police to regain the trust and confidence of the people and restore peace and order in the province, which was shaken following the March 4 assassination of Governor Roel Degamo and nine others.
"We will not abandon Negros Oriental, especially now that we have a very challenging task ahead. We will continue with our operations, checkpoints, and the security of victims as well as the families of the assailants until such time that the situation here in the province normalizes," Sison said.
Sison heads the Joint Task Force Negros, comprising the Armed Forces of the Philippines and the Philippine National Police, which was created soon after the Pamplona massacre.
Following their surrender, some suspects in the Pamplona massacre had appealed to the military and the police for the safety of their families as they vowed to cooperate in the investigation.
Some families have already been secured by law enforcement agencies.
Sison reiterated that they would protect both the families of victims and suspects caught in the middle of the conflict.
Sison's statement also comes as the Senate Committee on Public Order and Dangerous Drugs has wrapped up its inquiry into the brazen attack against the late governor at his Pamplona residence where he was distributing government aid to beneficiaries.
The Senate hearings also looked into many other killings in Negros Oriental in previous years that are still unsolved to this day.
Meanwhile, the Army general presided over the turnover of command of the 11th IB from outgoing commanding officer, Lt. Col. Roderick Salayo, to his successor, Lt. Col. Michael Aquino.
Sison commended Salayo for the battalion's accomplishments during his two-year stint, noting among other things the surrender of Communist insurgents who have already been reintegrated into mainstream society and are enjoying the benefits of the government's Enhanced Comprehensive Local Integration Program.
On the other hand, he challenged Aquino to continue the gains of his predecessor in running after the remaining New People's Army rebels, especially in the dismantled Southeast Front operating in southern Negros. (PNA)