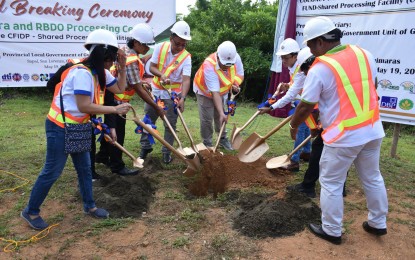 ILOILO CITY – The over PHP16-million shared processing facilities for copra and refined bleached deodorized oil to be constructed inside the 10-hectare Guimaras agri-fishery industrial village in Barangay Sapal, Nueva Valencia town is expected to benefit more or less 2,000 coconut farmers in the province.
Guimaras Governor JC Rahman Nava, in an interview following the groundbreaking ceremony on Friday, said since farmers are organized, the shared processing facilities will give them added market instead of purely copra.
"When we say additional market, it gives options to our farmers, particularly coconut farmers, and we are confident that it can benefit them in terms of increasing income since we provide a steady and added market," he said.
The governor said coconut is their second top product in the province after palay. Mango, which is their flagship commodity, comes in third.
Guimaras Provincial Office for Agricultural Services head Alvin Nava, in an interview, said that based on the data from the Philippine Coconut Authority (PCA), around 7,859 hectares of the agricultural area in the province are planted with coconut.
There are 651,894 bearing and 117,331 non-bearing trees as per PCA-Guimaras.
Their main products are mostly copra, matured coconut or lahin and young coconut locally known as buko, sold mostly in the local and Iloilo markets.
The governor said that the project that will be implemented by the Philippine Center for Post-Harvest Development and Mechanization (PhilMech) is going to be expedited although they have yet to enter into an agreement with the cooperating agencies since there are more than 10 government agencies involved.
While the project will be managed by their cooperative, the provincial government will also be around to supervise since it stands on province-owned property.
Ryan Monceda of the PCA Project Management Office, in providing an overview of the project, said that the shared processing facilities are a vital component of the Coconut Farmers and Industry Development Plan (CFIDP) of the coco-levy trust fund.
The project responds to the third objective of the CFIDP, which is the rehabilitation and modernization of the coconut industry toward farm productivity.
The shared facilities will offer services like manufacturing, packaging labeling, storing, and marketing of selected coconut products for distribution to local and international markets.
It will also be equipped with vehicles, coconut harvesting equipment, basic testing instrument, and other ancillary equipment for processing.
The Department of Trade and Industry is expected to assist in the marketing while the Agricultural Training Institute will handle the training.
The Department of Public Works and Highways will look into the infrastructure support, and the Cooperative Development Authority will lead the establishment of a farm service group, among others. (PNA)