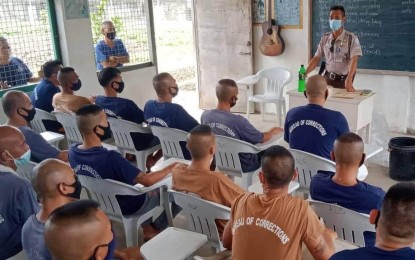 MANILA – The Department of Justice (DOJ) will charge former Bureau of Corrections (BuCor) director general Gerald Bantag with grave coercion following a complaint by jail officers at the Iwahig Prison and Penal Farm (IPPF) in Puerto Princesa City, Palawan.
In a statement on Friday, the DOJ said the complaint was filed by Lazaro Rafols Jr., Jer Sahid Mojado, Eddie Jimenez Jr., Richie Canja, Roy Gacasa and Asher Labrador.
Also named respondents were former spokesperson Gabriel Chaclag, former deputy security officer Ricardo Zulueta, Victor Erick Pascua, Bayani Allaga, Rose Marie Casion, Jayferson Bon-As, Joel Arnold, Kanoy Lattot, Ave Akilit, Edgar Angeles Jr. and Michael Marzan, all BuCor personnel.
Bantag and Zulueta, considered fugitives, have been issued hold departure orders after being linked to murder cases, including the killing of broadcaster Percival "Percy Lapid" Mabasa in October 2022.
The new DOJ charges to be filed before the Muntinlupa Metropolitan Trial Court arose from a March 2, 2020 order from Bantag for the complainants to report at the New Bilibid Prisons (NBP) in Muntinlupa City.
They were admonished for an alleged shooting incident that transpired at the IPPF.
According to the DOJ, Bantag and Chaclag coerced Canja into signing a document stating that no shooting incident took place.
"Bantag and Chaclag, through employment of violence, threats, and intimidation, as well as hurling unsavory words to complainants, had unlawfully forced Canja to desist from filing a criminal complaint against Bantag's men for the incident at the IPPF," according to the DOJ statement released by the office of Secretary Jesus Crispin Remulla.
"Bantag and Chaclag, even if they were then the superior officers of complainants, had no authority or any right to prevent Canja from filing a criminal case against those involved. As a result, Bantag and Chaclag should be held liable for the crime of grave coercion."
The Muntinlupa Regional Trial Court Branch 266 issued an arrest warrant against Bantag and Zulueta in April in connection with the murder of NBP inmate Cristito Villamor Jr., allegedly the middleman in the killing of Lapid.
Another warrant for Mabasa's murder was issued by a Las Piñas City court against the two and other accused.
Criminal Investigation and Detection Group tracking operations to hunt Bantag and Zulueta commenced when the warrants were issued. (PNA)