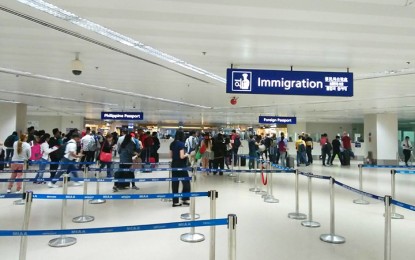 MANILA – A 43-year-old female passenger who presented herself as a government employee was recently stopped from boarding her flight to Singapore at the Ninoy Aquino International Airport (NAIA) Terminal 1 by the Travel Control and Enforcement Unit (TCEU) of the Bureau of Immigration (BI).
In a statement Monday, the BI reported that the victim, whose name withheld was intercepted on May 18 while attempting to board a Philippine Airlines flight bound for Singapore after the immigration officer doubted the authenticity of her travel authority and referred her for secondary inspection.
Upon closer scrutiny, it was confirmed that said travel authority was indeed fake.
According to the report, "the victim was not sure which municipality she worked in," which further raised doubts on the circumstances of her travel.
She later revealed that she had been recruited through a friend and had been communicating with her recruiter via text messaging.
She also had paid PHP15,000 to her recruiter, which was sent through an electronic payment app. The victim was ordered to delete their conversations.
The woman added that she received her travel documents just moments before her departure at the airport. She also admitted that her true destination was Dubai, where she intended to seek employment or await her visa for Lebanon.
"This incident shows that these traffickers will go to great lengths to elude strict immigration inspection. Despite this, we remain committed to upholding the law and ensuring the safety of departing overseas workers," said Commissioner Norman Tansingco.
The victim was immediately referred to the Inter-Agency Council Against Trafficking for further investigation and filing of appropriate charges against her recruiter.
A travel authority is a document required for all government employees proving that their agency has approved their travel abroad. (PNA)