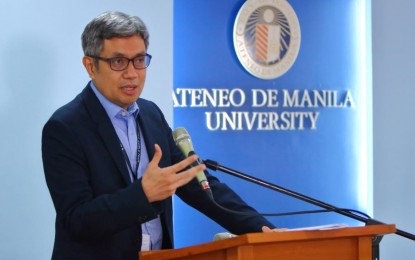 MANILA – Power experts agree that the Philippines' chronic supply deficiencies, which are most evident during the dry season, should be immediately addressed using draconian and novel solutions.
In an interview on Monday, Roberto Galang, dean at the Ateneo de Manila's John Gokongwei School of Management (JGSOM), said it is time to revisit proposals to consolidate the power grids of key island provinces, to create a larger, more efficient power distribution entity.
He cited a decades-old proposal to interconnect Mindoro, Palawan and parts of Mindanao to the national power grid.
Galang, however, said such proposal have not pushed through as provinces sometimes prefer getting subsidies from the National Power Corporation (Napocor).
The dean added there is a need to bring about an agglomeration of small power cooperatives spread across small towns in the provinces.
"The fragmented nature of their distribution network makes it difficult for them to properly contract power purchase agreements and leaves them at the mercy of large generation companies. They are also prone to insolvency and political interference by the LGUs," said Galang.
He explained that while there are undeniable technical hurdles, like the distance of Palawan to the rest of the country, the benefits of merging the small power firms scattered across the islands justify braving the difficulties.
"When there are blackouts, the economic costs are borne by companies and households dealing with spoilage, cessation of operations or having to buy their own generators. All of these come at a giant cost to the economy," he added.
Galang was reacting to a study made by Philippine Independent Power Producers Association Inc. indicating that over PHP500 million is lost by the national economy for every five-hour power outage that takes place on a large scale.
In a newspaper article, PIPPA president Anne Estorco Montelibano said a power interruption's effect on the economy is measured by the value of lost load (VoLL), which was explained as a measurement of lost business opportunities.
For his part, market analyst Astro Del Castillo, who is president and managing director of First Grade Holdings, said there is a need to address the electricity shortage in the short term by "whipping power companies to fast-track their power projects."
He lamented that the low power supply situation has persisted in the Philippines for some 30 years.
Del Castillo said more investments are needed at this time in the power sector, including in such areas as gas exploration at sea.
It was recalled that the Malampaya Deep Water Gas-to-Power project by itself has been producing about 35 percent of Luzon's electricity requirements since 2001.
Del Castillo, who is also chairperson of Frontier Oil Corporation (Philippines), said the long-term path to energy security includes giving nuclear energy a hard second look. (PNA)