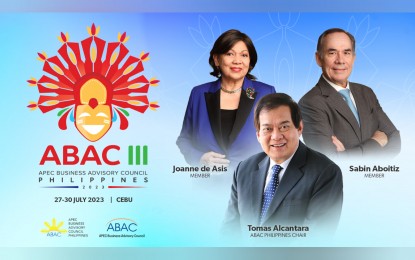 MANILA – The Philippines will host the third leg of Asia Pacific Economic Cooperation (APEC) Business Advisory Council (ABAC) meetings from July 27 to 30, which will be attended by business executives from the 21 member economies.
In a statement Tuesday, ABAC Philippines chair Tomas Alcantara and ABAC members Aboitiz Group president and chief executive officer Sabin Aboitiz and Joanne de Asis said they are looking forward to welcome over 200 attendees of the ABAC III and showcase the warm hospitality and rich culture of the country.
ABAC III's theme "Equity, Sustainability, and Opportunity" aims to forge discussions and cooperation between the public and private sector in APEC economies.
The third leg of ABAC meeting will once again put micro, small and medium enterprises (MSMEs) in the spotlight along with promoting the environment, social and government (ESG) investing landscape.
"We are honored to host this important gathering of business leaders from across the Asia Pacific. We look forward to providing a positive experience here in the Philippines as the Council continues the great work and progress it has achieved in the past two meetings," Alcantara said.
ABAC Philippines added that hosting the ABAC III provides an opportunity for the country to showcase its potential to be an investment destination in the region.
"As we prepare to host ABAC in the vibrant heart of Cebu, we stand on the cusp of boundless opportunities and exciting discoveries. Let's write a new chapter in the Asia Pacific story, where collaboration sparks innovation, and our shared vision for a prosperous future becomes a reality," said Aboitiz, who is also the vice chair of the 2023 ABAC Sustainable Growth Working Group (SGWG).
On the other hand, De Asis, the country lead for the Financial Task Force, said the meeting also aims to advance the interests of the Asia Pacific business community in contributing to the development of the region.
"As ABAC members, we are committed to promoting sustainable and equitable growth in the region. We believe this meeting will provide another valuable platform for discussion and collaboration on important issues we face," de Asis said. (PNA)