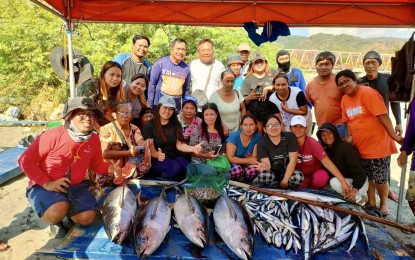 LAOAG CITY – Over 100 fishermen from Dilavo, Pasuquin, Ilocos Norte have received their "lambaklad" (fish net), an eco-friendly fish trap technology to boost their production.
Funded by the Bureau of Fisheries and Aquatic Resources (BFAR) based in Ilocos Region for PHP2.8 million, the lambaklads were handed over to the Dilavo Fishermen Association represented by its president, Joel Queddeng.
"We are so thankful and blessed to have this project in our town. We will do our best to take good care of it for our future," said Queddeng in an interview Tuesday.
Coined from the Filipino words "lambat" (net) and "baklad" (corral), lambaklad uses a stationary huge fish trap laid down under the sea. It is a Japanese fishing technology adopted in the Philippines since it is sustainable and eco-friendly.
The project was formalized through a memorandum of agreement between the BFAR, the local government unit of Pasuquin, and the Dilavo Fsihermen Association Inc. signed on May 19.
As part of the agreement, the 120 active association members will undergo skills training and participate in the construction, operation, management and maintenance of the Lambaklad project.
Vanessa Abegail Dagdagan, senior aquaculturist of BFAR-Ilocos Norte, said in an interview Tuesday that the technology could help uplift the living conditions of the small-scale fisherfolk by providing them with livelihood intervention that is sustainable and environment-friendly.
To assist the fishermen association, Dagdagan added that they will provide technical support and regular monitoring of the association to ensure the success and viability of the project.
Popular catches in the fishing grounds of Pasuquin include tuna, scads species, moonfish and other pelagic species. (PNA)