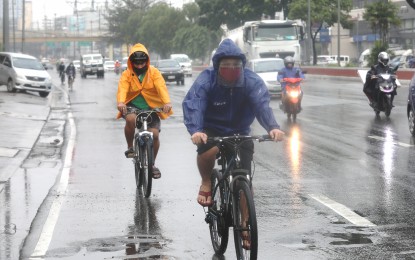 MANILA – Most parts of the country will experience rains due to two weather systems, the weather bureau said Wednesday.
In its 5 a.m. bulletin, the Philippine Atmospheric, Geophysical and Astronomical Services Administration (PAGASA) said the frontal system affecting extreme Northern Luzon will bring rains over Batanes and Babuyan Islands.
Scattered rain showers and thunderstorms will also be experienced over the Zamboanga Peninsula, the Bangsamoro region, and Palawan due to the southwesterly wind flow.
PAGASA warned that flash floods or landslides are possible in those areas in case of moderate with at times heavy rains.
Isolated rain showers caused by the southwesterly wind flow and localized thunderstorms are forecast over Metro Manila and the rest of the country.
Moderate winds and moderate seas will prevail over extreme Northern Luzon, while the rest of the country will have light to moderate winds and slight to moderate seas.
Meanwhile, Super Typhoon Mawar is slowly moving northwestward and is expected to enter the Philippine Area of Responsibility either Friday or Saturday.
It is packing maximum sustained winds of up to 185 kph and gustiness of up to 230 kph.
PAGASA weather specialist Obet Badrina said the tropical cyclone has a small chance of making landfall but may enhance the southwest monsoon that will cause rains, particularly in the western section of Luzon, the Visayas, and possibly Mindanao.
On alert
The Office of Civil Defense (OCD) is constantly monitoring the weather disturbance, along with concerned member agencies of the National Disaster Risk Reduction and Management Council (NDRRMC).
"Initially alerted LGUs (local government units) located in the eastern seaboard of the country as 'Mawar' will be coming from the eastern side of the country, however, we are also now alerting LGUs in the western seaboard as the tropical cyclone will intensify and pull southwest monsoon that will cause strong winds and rains," OCD spokesperson, Assistant Secretary Bernardo Rafaelito Alejandro IV, said in an update Wednesday.
The OCD, he said, is set to conduct the pre-disaster risk assessment with science agencies to determine the LGUs' susceptibility to the effects of the tropical cyclone.
Alejandro said this would allow the LGUs to determine the alert level they need to implement, along with corresponding response protocols.
Responders and rescuers are on alert, while relief goods are being stockpiled and prepositioned. (with report from Priam Nepomuceno/PNA)