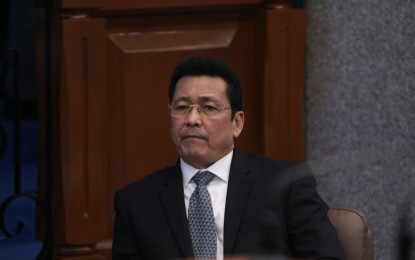 MANILA – Senator Lito Lapid has filed a bill seeking to introduce three crucial reforms in Republic Act 9513 or the Renewable Energy Act of 2008 that would promote the use of renewable energy (RE) technology in homes, and strengthen the net-metering program in the country.
Senate Bill 2138, which Lapid filed on May 23, proposes to remove the 100- kilowatts per hour (kW) threshold for distributed energy system, make the application procedures and the permitting process for the Net Metering Program standardized and expedited, and mandates a parity pricing methodology that credits end-users the full retail price of the surplus electricity contributed to the electricity grid.
In a statement on Friday, Lapid said removing the 100-kW threshold will ease the installment of solar panel system from a household to the national grid.
"Kung mapadali natin na maikabit sa national grid ang mga residential solar panel, mabibigyan din ng pagkakataon ang ating mga kababayan na makatulong solusyonan ang krisis sa kuryente kahit sa maliit na paraan (If we can hasten the installation of residential solar panels to the national grid, our countrymen will have the chance to help address the power crisis in their own little way)," the lawmaker said.
Related to this, SB 2138 also mandates the Energy Regulatory Commission (ERC) to routinely determine the maximum kW capacity for distributed generation while taking into account potential implications on the grid's reliability and captive consumers' retail rates.
Meanwhile, mandating a parity pricing methodology aims to rectify the double-charging scheme of the current pricing methodology, where net-metered end-users also pay for the transmission and distribution charges of the electricity surplus they produced that is already covered by other electricity consumers.
Lapid expressed optimism that these reforms will not only ease the burden of consumers with high electricity consumption, but also contribute more to the country's energy supply.
"Sa tamang sistema, kahit pumalya ang national grid sa anupamang kadahilanan ay merong back-up ang mga konsyumer sakaling mag-brownout dahil libre naman ang sikat ng araw (With the right system, even if we encounter problems in the national grid, consumers will have a back-up during brownouts because solar energy is free)," he said.
Under RA 9513, solar panel users can slash their electricity bills by earning bill credits through the net metering program.
Net metering allows customers of distribution utilities to install an on-site renewable energy facility (such as solar panels) not exceeding 100 kW in capacity so they can generate electricity for their own use.
According to the Department of Energy, any electricity generated that is not consumed by the customer is automatically exported to the utility's distribution system.
A peso credit will be given by the distribution utility, that is equivalent to its retail rate, for the excess electricity it receives.
The distribution utility deducts the credits earned to the customer's electric bill which in turn will be used to reduce the bill.
A distribution utility's retail rate consists of generation, transmission, system loss, distribution, subsidies, taxes and other charges. (PNA)