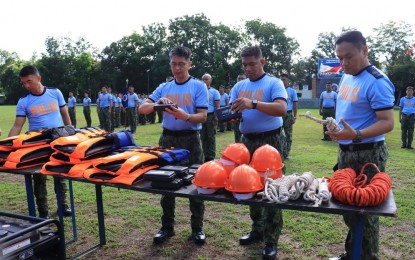 MANILA – Philippine National Police (PNP) chief Gen. Benjamin Acorda Jr. on Monday ordered the mobilization of more than 27,000 of its personnel to assist the local government units (LGUs) in responding to the threat of Typhoon Betty which is now bringing heavy rains, especially in Northern Luzon.
Acorda said police forces were instructed to coordinate with local officials for possible preemptive evacuation, rescue and relief operations in areas that are now experiencing bad weather conditions, as well as those which would likely be hit by the cyclone.
Betty entered the Philippine Area of Responsibility over the weekend and is now moving closer to the tip of Northern Luzon, particularly in the Cagayan Valley Region.
Acorda earlier ordered police commanders in Ilocos Region, Cagayan Valley Region, Central Luzon and the Cordillera Administrative Region to mobilize all Regional Mobile Force Battalions, including the Provincial Mobile Force Companies as part of the government's response.
"The PNP National Headquarters Critical Incident Management Committee, of which I am the chairman, has been activated to monitor, coordinate, and direct all disaster response efforts of PNP Units," said Acorda.
"PNP units at the municipal, city, and provincial levels are under specific instructions to keep all national highways and thoroughfares clear of road debris and obstruction to ensure unhampered passage of emergency vehicles, rescue equipment, and relief aid convoys to disaster-affected areas," he added.
Acorda said they are now also coordinating with local disaster risk reduction and management officials and the Department of Social Welfare and Development for the prepositioning of food packs and other forms of assistance.
He said the warehouses and distribution hubs of food packs and relief goods are now secured by local police forces.
Currently, the PNP has 4,650 trained personnel for Water Search and Rescue (WASAR), 7,371 trained personnel for Search and Rescue (SAR), 8,806 Life Vest, 77 SAR Boats, and 1,730 units of search and rescue equipment vehicles consisting of 1,496 personnel carriers, and 234 units of Troop Carrier, including 625 portable electric generator sets.
Accomplishments
The PNP chief also reported that police officers seized PHP6.05 billion worth of illegal drugs in the first five months of 2023, the country's top cop said Monday.
"On the campaign against illegal drugs,18,317 anti-drug police operations nationwide on January 1 to May 27, 2023, resulted in the confiscation of illegal drugs estimated to be worth PHP6.05-billion, and the arrest of 24,197 drug offenders," Acorda said in a press briefing in Camp Crame, Quezon City.
Acorda also lauded the National Capital Region Police Office for its accomplishment over the weekend, where police officers arrested two high-value individuals in a drug buy-bust operation that resulted in the confiscation of approximately 3,800 grams of shabu with an estimated standard drug price of PHP25.8 million in Caloocan City.
He also said that from Jan. 1 to May 26, 2023, the PNP confiscated 11,417 loose firearms from 3,599 persons arrested for possession of these illegal firearms.
During the same period, police units received 6,513 firearms for safekeeping and filed 1,783 cases in court.
He added that a total of 29,383 persons wanted by the law were arrested by PNP units in police operations in the same period, while 176 surrendered to the authorities. (PNA)