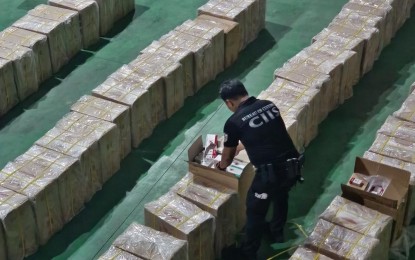 MANILA – An inspection of warehouses in Plaridel, Bulacan has yielded around PHP900 million worth of smuggled imported cigarettes and other general merchandise, including counterfeit goods, the Bureau of Customs (BOC) reported on Monday.
In a statement, Customs Commissioner Bien Rubio said the operation was conducted after he issued a Letter of Authority (LOA) and Mission Order (MO), by the team composed of Customs Intelligence and Investigation Service-Manila International Container Port (CIIS-MICP), Enforcement and Security Service (ESS) and the Philippine Coast Guard (PCG) on May 26.
He added that a quick inventory of the goods showed that the illicit cigarettes found already amounted to PHP50 million.
"The team inspected the warehouses and found to contain imported illicit cigarettes, and other imported general merchandise, housewares, kitchenwares, and IPR (Intellectual Property Rights)-infringing goods," the BOC chief said.
Rubio added that the approximate value of the goods found is more or less PHP900 million which came from China.
According to CIIS-MICP chief Alvin Enciso, who led the operation, the warehouses have been temporarily padlocked and sealed.
"Our team showed the LOA to the warehouse representatives and they proceeded with the inspection after it was acknowledged," he said.
The owners of the goods would be asked to present importation documents or proof of payment by Customs authorities.
If found without proper documents, the corresponding seizure and forfeiture proceedings will be conducted against the subject shipments for violation of Sec. 1400 (misdeclaration in goods declaration) in relation to Sec. 1113 (property subject to seizure and forfeiture) of Republic Act 10863 known as the Customs Modernization and Tariff Act (CMTA).
For his part, Deputy Commissioner for Intelligence Group Juvymax Uy acknowledged the proper coordination from respective government agencies for successful operation.
"This operation shows what we can achieve with proper coordination between BOC and key government agencies. More than anything else, this shows what we've been saying all along, that the bureau will not stop its anti-smuggling drive against agricultural products and illicit cigarettes," Uy added. (PNA)