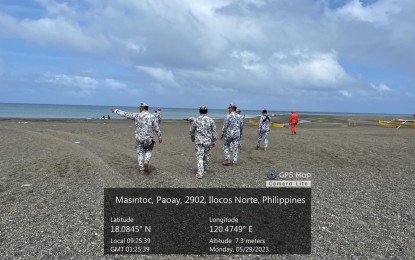 LAOAG CITY — The Ilocos Norte government is donating a fiberglass patrol boat to the Philippine Coast Guard which can be readily used in case of an emergency.
Provincial board member Franklin Dante Respicio said Monday the Philippine Coast Guard based in Currimao town is in need of at least one fiberglass reinforced patrol boat to boost their capability during search and rescue operations and in patrolling maritime boundaries.
"To formalize the donation, the Ilocos Norte board has granted authority to Governor Matthew Joseph Manotoc to enter into a deed of donation with the PCG represented by the station commander, Onsito Comnang, or by any other official of the PCG stationed in Currimao," said Respicio.
The fiber reinforced plastic (FRP) patrol boat is considered a better alternative to traditional wooden boats as it is stronger and more resistant to rot, corrosion, and harsh marine environment despite the higher cost of production.
Earlier, training on FRP patrol boat construction was conducted in Currimao in partnership with the Mariano Marcos State University and Tanggol Kalikasan Inc. through the Institute of Environmental Governance Program, and in collaboration with the Bureau of Fisheries and Aquatic Resources, and the provincial government.
The training project aims not only to use sustainable environmentally friendly materials but also to provide livelihood opportunities to the participants.
The output of the participants was then turned over to the Ilocos Norte government to be used to protect its coastal waters, secure and sustain marine resources, conduct search and rescue, provide transportation, and support local tourism.
The training is part of the US$800,000, three-year Environmental Justice Sector Reform Program that builds local capacity on the administration of environmental governance and conduct of law enforcement, with a special focus on countering illegal wildlife trade and the unregulated illegal fishing for various stakeholders from coastal municipalities facing the West Philippine Sea. (PNA)