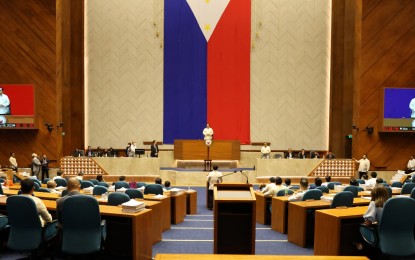 MANILA – The House of Representatives has approved two measures that will address the ill effects of climate change through the rehabilitation and conservation of key resources.
During Monday's plenary session, a total of 268 lawmakers voted to approve on final reading House Bill 8204, which seeks to enhance the conservation and restoration of peatlands to allow the country to manage it sustainably given their value as natural solutions to address climate change.
Speaker Martin Romualdez said peatlands, which are wetland ecosystems with accumulation of decomposed plant materials, have peat and permanent water logging and vegetation in the form of trees, shrubs, grasses, and mosses.
Romualdez further pointed out that these are nature-based solution for climate change mitigation considering that they function as carbon sinks because they take in and store more carbon than they release.
"Hence, this measure will provide opportunities for the country to achieve multiple benefits for biodiversity and climate resiliency, including financing through market-based instruments and mechanisms," he said.
The bill tasks the Department of Environment and Natural Resources (DENR), through the Biodiversity Management Bureau (BMB), to lead the monitoring and overall implementation of the proposed legislation.
Under the measure, the DENR shall develop a National Peatland Conservation and Restoration Program to provide direction, support and guidance to the local government units (LGUs) and stakeholders in the development and implementation of their local peatland conservation and restoration programs.
The program will include a mapping of peatlands in the country, and assessment of vulnerability to climate change and disaster risk management, among others.
The proposed law requires that peatlands classified as agricultural lands will be reclassified to either forest lands or national parks, upon DENR's recommendation.
The bill also prohibits the drainage, deforestation, clearing, dumping of waste and introduction of invasive alien species in peatlands.
The chamber also overwhelmingly approved with 284 votes House Bill 7754, which seeks to reforest and rehabilitate fishponds that have been abandoned or unutilized for three years.
The bill proposes to amend Section 43 of Presidential Decree 705 or the "Revised Forestry Code of the Philippines" and reduce from five years to three years the period needed to reforest unutilized or abandoned fishponds.
Romualdez said instead of remaining an idle asset, these abandoned or unutilized fishponds can be used to help in efforts to safeguard and protect the environment.
"This measure also aims to address the ill effects of climate change by actively promoting reforestation in areas that can be planted with trees," he said.
The main objective of HB 7754 is to expedite the reversion of unutilized or abandoned fishponds to forest lands so that these can be "immediately rehabilitated and reforested".
It also mandates the Department of Agriculture and the Department of Environment and Natural Resources to jointly set guidelines in the determination and rehabilitation of abandoned, undeveloped or underutilized fishponds covered by Fishpond Lease Agreements.
The measure was introduced by Agusan del Sur Representatives Alfelito Bascug and Eddiebong Plaza, together with Bulacan Rep. Linabelle Ruth Villarica, and was approved in the House Committee on Natural Resources chaired by Cavite Rep. Elpidio Barzaga. (PNA)