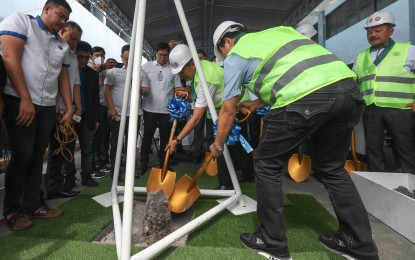 MANILA – The dream headquarters of the National Bureau of Investigation (NBI) is expected to be completed in 2026.
NBI Director Medardo de Lemos led the groundbreaking on Tuesday at the old site at the corner of UN and Taft Avenues in Ermita, Manila, where the new PHP2.5 billion, 12-story headquarters will rise.
The new NBI building will have three towers, a multilevel parking level lot, a dormitory for transient agents and employees, gymnasium, shooting range and forensic equipment laboratory.
"We leave in the old building the treasure of our memories," said De Lemos. "Almost two generations of NBI agents and personnel and employees have been housed and stayed in this building."
In 2019, the NBI headquarters was declared unfit by the Manila local government and employees relocated to the V-Tech Tower in Araneta Avenue, Quezon City.
As early as 2015, the 49-year-old building was already condemned by the Department of Public Works and Highways.
The new building to be built on the nearly 50,000-square-meter property "will give way to the coming of a more modern, better, and more comfortable working environment for all of us," De Lemos told the media.
He said construction can now finally proceed "through our friends and supporters" at the Senate and the House of Representatives.
"We have dreamed of this for so many years and it was only last year that this dream would come into realization when they funded initially the project for PHP450 million," De Lemos said.
The NBI will likewise construct a three-story building in Legazpi City, Albay that will also serve as training center for aspiring agents. (PNA)