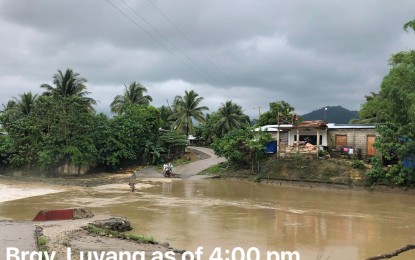 DUMAGUETE CITY – At least five spillways across Negros Oriental were rendered impassable on Tuesday after water in different rivers swelled due to heavy rains associated with Typhoon Betty and the southwestern monsoon or "habagat."
Marlo Quilnet, Provincial Disaster Risk Reduction and Management Office (PDRRMO) chief, told the Philippine News Agency (PNA) that no casualties were reported in the areas where the spillways overflowed.
Water in the following bodies of water rose due to rains: Tamogong River in Bais City; Kalumboyan River in Bayawan City; and Luyang River, Tabuay River, Iranon River, and Ilog River, all in Mabinay town.
As a result, the spillways in Barangay Cabanlutan, Bais City; Barangay Kalumboyan, Bayawan City: Barangays Lumbangan, Banban, Himocdungon, and Arebasore, all in Mabinay, overflowed, Quilnet said.
He expressed hope that the overflowing waters would have already receded by the end of the day.
So far, no other untoward incidents due to the typhoon and the "habagat" have been reported in Negros Oriental despite weather forecasters saying that these would bring moderate to heavy rains, especially in the southern part of the province.
Classes were suspended at all levels in public and private schools in Tanjay City, Manjuyod town, and Mabinay through executive orders issued by their respective mayors, Quilnet said.
On Monday, Dauin, Zamboanguita, and Siaton also declared a suspension of classes although it was not immediately known whether the suspension has already been lifted, he added.
Meanwhile, the Coast Guard Station in Negros Oriental on Monday evening issued an advisory on the suspension of sea travel for vessels with a gross tonnage of 250 or less to and from Negros Oriental due to gale force winds associated with the typhoon and the southwest monsoon.
Quilnet said the Coast Guard has not yet issued an advisory on the lifting of the travel suspension.
The PDRRMO chief said all DRRMOs in the towns and cities are still on standby even as the typhoon is already exiting the country and the "habagat" continues to threaten the province with strong rains and winds. (PNA)