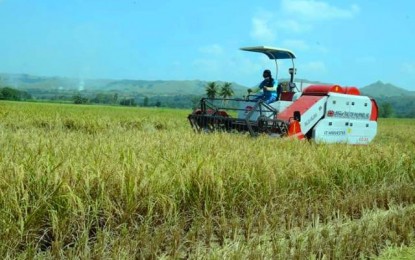 MANILA – President Ferdinand R. Marcos Jr. on Wednesday emphasized the importance of ramping up the government's efforts to attain the "97.4-percent" rice self-sufficiency target in the country.
In an interview in Pasay City, Marcos said he convened a rice industry convergence meeting at the National Irrigation Administration's (NIA) Convention Hall in Quezon City to discuss the consolidation and digitalization efforts to improve the rice sector.
"It is essentially the roadmap to the eventual goal of reaching 97.4-percent self-sufficiency for rice," he said.
"Ninety-seven percent is sufficient. You do not have to really go to 100 percent kasi 'yung three percent, iba 'yung mga least products, 'yung mga organic 'yung mga special grain, Japanese rice. 'Yung mga ganoon. 'Yun, hindi na natin kailangang i-provide 'yun (because the remaining 3 percent are the least products, which include the organic, special grain and Japanese rice. We no longer need to provide that)," he added.
Marcos said farm consolidation, or the reallocation of land parcels, is vital to boost rice production and enable local farmers to take advantage of the new technologies.
Land consolidation, Marcos said, would be a prerequisite to large-scale mechanization which would help increase crop productivity in the country.
"We talked about the consolidation of the farmers dahil ang unang hakbang na kailangan nating gawin para magkaroon ng increased production at saka ibaba 'yung presyo ng produksyon ay kailangang i-mechanize (because the first step that we need to increase production and bring down the price is to mechanize [the farms])," Marcos said.
"Hindi ka makapag-mechanize kung ang inaararo mo is only .6 hectares. Kung minsan ganoon lang ang lupa (You would not be able to mechanize if you are only plowing only .6 hectares. That is the common size of land)," he added.
Marcos noted that there was also a plan to entice more young Filipino farmers who will be trained to use new agriculture technologies.
"To do that, again, we engage them with new technologies because they will be the ones who operate those systems, those new technological systems. And that will make it interesting for young people to come in to the sector," he said.
He added that his administration intends to provide "good data" to the farmer leaders.
The meeting at the NIA office was held a day after the executives of Thailand conglomerate Charoen Pokphand Group (CP Group) paid a courtesy call on him at Malacañan Palace in Manila and expressed their intent to invest about USD2.5 billion (PHP140.8 billion) to further boost the Philippines' agriculture sector.
The CP Group's expansion plans involve the use of new technologies, covering swine (USD1.3 billion), poultry (USD280 million), shrimp (USD800 million) and food (USD120 million).
Marcos said he is "excited" about the CP Group's planned expansion of operations in the country, stressing that he wants the immediate adoption of the Thailand firm's "very aggressive" use of new technologies.
He said the country has "good" and "highly-experienced" scientists, agriculturists, agronomists and researchers who could help in facilitating the innovations in the agricultural industry.
"We have all the elements but these elements do not seem to be in place right now. So, what we're trying to do is to put these elements together. And they (CP Group) can help us dahil nagawa na nila (because they have done it already)," Marcos said.
"Three years later, they're going to build another plant... That's where we want to be. That's how quickly we want to be moving and how agile we would like to do. That's what we're hoping they could help us with and they have committed to do so," he added.
During the meeting, Marcos approved the Masagana Rice Industry Development Program (MRIDP) crafted by the Department of Agriculture (DA) which he currently chairs, Communications Secretary Cheloy Garafil said in a separate statement.
Garafil noted that under the MRIDP, several strategies would be carried out to support rice farmers, increase rice production and strengthen the rice value chain.
"The program will be carried out through several strategies such as climate change adaptation; farm clustering and consolidation or convergence of intervention; value chain approach; and, digital transformation," she said.
"A key component of the MRIDP is the convergence of all stakeholders involved in the development of the rice industry with the objective of pooling resources, sharing knowledge, and coordinating efforts to achieve sustainable rice production and higher income for rice farmers," Garafil added.
Data from the DA showed a decline in the total palay (unhusked rice) harvest area and average palay yield in 2022.
The DA reported that around 75.6 percent or 14.94 million metric tons (MMT) of the 19.76 million metric tons of unhusked rice in 2022 came from irrigated areas, while the remaining 24.4 percent or 4.82 MMT were from non-irrigated areas.
The top five highest rice-producing regions in 2022 were Central Luzon (3.62 MMT), Cagayan Valley (2.93 MMT), Western Visayas (2.32 MMT), Ilocos Region (1.96 MMT) and Bicol Region (1.33 MMT). (PNA)