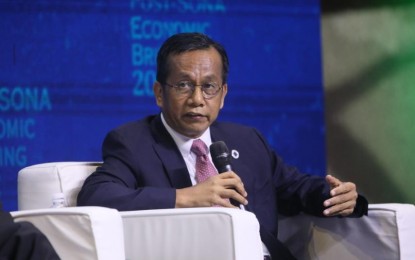 MANILA – The Maharlika Investment Fund (MIF) is not expected to raise the national debt, National Economic and Development Authority (NEDA) Secretary Arsenio Balisacan said on Wednesday.
"I don't think (debt will spike). The (capitalization is) just small, PHP500 billion, that's not really... Besides there's going to be strategic areas that are also profitable, they will be investing those in profitable areas, projects," Balisacan said on the sidelines of the German-Philippine Chamber of Commerce and Industry, Inc. luncheon forum.
Senate Bill 2020 or the MIF bill, which seeks to establish the Maharlika Investment Corp. as the sole vehicle for mobilizing and utilizing MIF for investments, was approved by the Senate on Wednesday.
The MIF shall have an authorized capital stock of PHP500 billion, with common shares of PHP3.75 billion, to be subscribed by the national government, its agencies, or instrumentalities, including government-owned and -controlled corporations (GOCCs) or government financial institutions (GFIs).
The Social Security System, Government Service Insurance System, Philippine Health Insurance Corp. (PhilHealth), Home Development Mutual Fund or Pag-IBIG Fund, Overseas Workers Welfare Administration, and the Philippine Veterans Affairs Office, however, will not be included.
Those opposing the bill earlier expressed concern that the MIF might further increase the country's debt.
"The changes in the bill were supposed to address the concern to ensure that there are enough controls there," Balisacan said.
Data from the Bureau of Treasury showed that the country's outstanding debt reached PHP13.91 trillion as of end-April this year. Of the total debt stock, 32 percent was sourced externally while 68 percent were domestic borrowings.
"We have medium-term fiscal framework... to address the issue on debt, deficits, macroeconomy, the economy so I'm not too worried," he said.
Meanwhile, Balisacan said he respects the Senate's changes in the proposed bill.
He also expressed confidence that the Senate version would be able to address accountability issues.
"They have put in many additional provisions that addresses these issues, I haven't seen the bicam(eral), that joint version. They would have to reconcile the Senate and House version, we'll see. Many changes have been introduced, those changes were meant to address the issues, including accountability issues," Balisacan said.
"The fact that it is now passed, I think, strengthens our platforms for investment because we, the economic team, has been saying we need to augment, complement the platforms that we have in engaging with the private sector, expanding investments in strategic areas." (PNA)