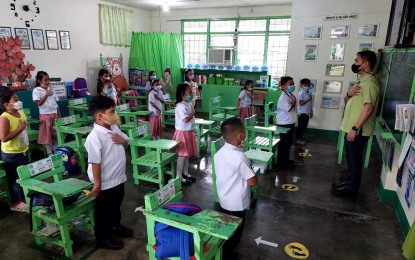 SAN JOSE DE BUENAVISTA, Antique – The Department of Education (DepEd) Schools Division of Antique is urging all 535 public schools in the province to have catch-up lessons to reach the required 200 days of contact time with learners before the school year ends.
DepEd chief of school governance and operations Dr. Evelyn Remo said in an interview Wednesday that unfavorable weather conditions and other school activities resulted in the suspension of classes.
"The school calendar actually covers 220 days to provide also leeway for schools whenever they could not shift to modular or distant learning," Remo said.
She added that most schools shift to modular or distant learning to complete their 200 days of contact time.
Currently, the schools division office in Antique is preparing for the moving up ceremonies of Kindergarten, Grades 6 and 10 and the graduation for Senior High School while waiting for the guidelines from DepEd central office on how these events will be conducted.
"Usually among the guidelines for the moving up or graduation rite is to have it simple and no collection of contributions among parents," she said.
She said that the coronavirus disease 2019 (Covid-19) health protocol such as the observance of physical distancing among graduating learners and their parents will also be observed.
DepEd Antique has 161,851 learners this school year. (PNA)