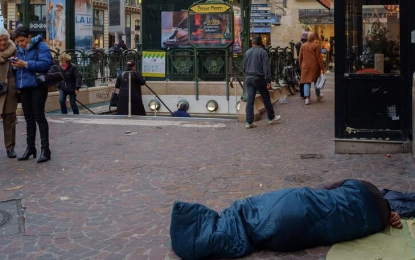 PARIS – France's sports minister said on Wednesday that the government's decision to move homeless people and asylum seekers from the capital city is not related to the upcoming Olympic games.
"We have major issues with emergency accommodation, but it's not the fault of the Olympics. (...) It's something that started in April. We must not make the Olympics the scapegoat for all our frustrations," Minister for Sports and the Olympic and Paralympic Games Amelie Oudea-Castera told France 2.
Starting in March, the government asked regions across the country to establish temporary accommodation facilities for a large number of homeless people and asylum seekers who would leave the capital.
The country's housing minister, Olivier Klein, told parliament this month that many hotels in the capital were reluctant to provide temporary housing for homeless people and asylum seekers during the upcoming autumn as they were expecting a high number of customers during the Rugby World Cup and 2024 Olympics Games.
Local politicians expressed concerns about the government's plan to encourage thousands of homeless people and asylum seekers to leave Paris.
Philippe Salmon, the mayor of Bruz, a town in northwest Brittany near the regional capital Rennes, expressed his disagreement with the proposal to establish a new center in his town.
"We do not support the idea of having a facility in our region under conditions that we find unacceptable," he said.
According to the Paris City Hall, around 150,000 individuals are residing in temporary housing within the Paris region and around 3,000 people do not have a proper shelter. (Anadolu)