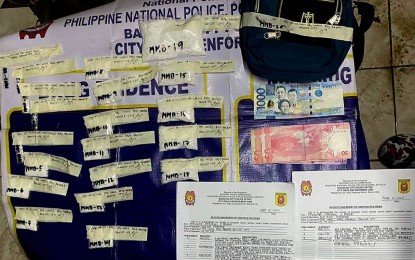 BACOLOD CITY – Police drug enforcement teams arrested three suspects and seized more than PHP4.5 million worth of shabu in a separate buy-bust operations in this city Wednesday night and Thursday morning.
The sting operations were conducted by personnel of the Regional Police Drug Enforcement Unit-Western Visayas (RPDEU-6) and Bacolod City Police Office-City Drug Enforcement Unit (BCPO-CDEU) in two locations.
Shortly before 10 p.m. on Wednesday, operatives of RPDEU-6 apprehended two drug personalities who yielded PHP2.72 million in shabu during a meet-up along Burgos Street in Barangay 10.
The suspects were identified as Jojo "Boy Tattoo" Segovia, 21, resident of Purok Lampirong, Barangay 2, and Lijun Tayona, 35, of Barangay Pahanocoy, both in this city.
Maj. Rommel Anicete, head of RPDEU-6, said Segovia, tagged as a high-value individual (HVI), can be considered as a drug runner, who initially transacted with them through online payment channels.
"Segovia is the main target while Tayona is the rider. He (Segovia) is in the regional top priority level. Our monitoring started this month then we got a link so we were able to transact with him," he added.
During the operation, Tayona sold five plastic sachets of shabu worth PHP100,000 to a poseur-buyer.
Operatives recovered from the suspects 42 plastic sachets and two plastic bags of shabu, including the buy-bust item, weighing about 400 grams with a standard drug price of PHP6,800 per gram.
Around 2:30 a.m. on Thursday, operatives of BCPO-CDEU arrested suspect Malcomb Baron Marshall at his residence in Purok Langis, Barangay Banago.
Also considered an HVI, Marshall, 24, was caught red-handed selling a sachet of shabu for PHP1,000 to an undercover policeman.
Seized from the suspect's possession were 14 plastic sachets and five plastic bags of the same prohibited substance with a total volume of 262 grams valued at PHP1.78 million, along with PHP200 cash.
"Tactical interrogation is still ongoing. This is to locate the source of illegal drugs, links and accomplices and for conduct of follow-up operation," a report of the BCPO-CDEU said. (PNA)