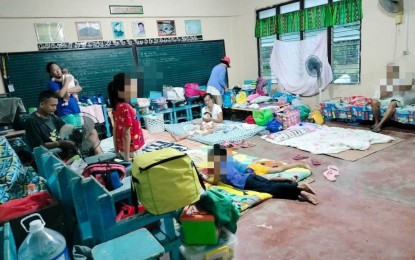 SAN JOSE DE BUENAVISTA, Antique – The Provincial Disaster Risk Reduction and Management Office (PDRRMO) has reported that 374 families composed of 837 individuals from four municipalities in Antique have evacuated due to flooding caused by the heavy rainfall since Wednesday.
PDRRMO chief Broderick Train said in an interview Thursday said local government units (LGUs) have been conducting the preemptive evacuation for their residents living along the coastal areas and riverbanks.
"There are four towns that have already evacuees," he said.
The families were from the towns of Sibalom, Patnongon, Tibiao and Barbaza.
Of the total figure, there are 217 families equivalent to 529 individuals staying in nearby schools, Day Care centers and barangay halls serving as evacuation centers while the rest opted to seek temporary shelter with their relatives.
"The LGUs are providing the evacuees with their needed food and other needs," he said.
The Department of Social Welfare and Development (DSWD) last week prepositioned 20,247 family food packs in eight municipalities in Antique upon the requests of their local chief executives.
Darlene Abagat, Social Welfare and Development (SWAD) Team Leader in Antique said in a separate interview that the food packs are in the towns of Barbaza with 5,600; Bugasong, 2,000; Culasi, 1,700; San Jose de Buenavista, 2,694; San Remigio, 2,430; Sebaste, 1,000,; Sibalom, 1,823; and Tibiao with 3,000.
"We are still waiting for other LGUs to make their requests," she said.
Meantime, Governor Rhodora J. Cadiao issued Executive Order No. 97 suspending work at the provincial government as a precautionary measure since the state weather bureau hoisted the red rainfall warning over the province at 8:30 a.m. on Thursday.
Classes in all levels are automatically suspended as per Department of Education order number 37, series of 2022 providing guidelines on the suspension of classes during natural disasters, power outages/interruptions and calamities, among others.
Red rainfall warning means that heavy rains, flash floods and landslides are expected to affect the area where it was hoisted.
The Paliwan River between the towns of Bugasong and Laua-an also remains impassable, thus fishing boats continue to serve as temporary means of transportation for commuters. (PNA)