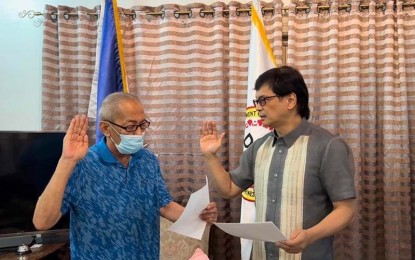 MANILA – President Ferdinand R. Marcos Jr. on Thursday mourned the death of Negros Oriental Gov. Carlo Jorge Joan 'Guido' Reyes.
"We are deeply saddened to hear of the passing of Negros Oriental Governor Carlo Jorge Joan "Guido" Reyes on May 31," Marcos said on a Facebook post.
Marcos paid tribute to Reyes for "faithfully" serving the Negros Oriental province.
He also offered condolences to Reyes' family.
"We extend our heartfelt condolences to his family, friends, and the people of the province he served so faithfully. May his legacy continue to inspire and his memory be cherished," Marcos said.
Reyes succumbed to a terminal illness while being treated at St. Luke's Hospital in Metro Manila on Wednesday.
Reyes took over the position of governor of Negros Oriental immediately after Gov. Roel Degamo was killed inside his residential compound in Pamplona while he was giving government aid to beneficiaries on March 4.
Reyes was running-mate of Degamo and elected as vice governor during the May 9, 2022 elections.
Vice Governor Manuel "Chaco" Sagarbarria on Wednesday took oath as the new governor of the province following Reyes' demise.
Sagarbarria was elected Board Member of the 2nd District in the May 9, 2022 elections and became vice governor after the position was vacated by Reyes.
The Diocese of Dumaguete has also expressed sympathy to the Reyes' family.
In a statement on Thursday, Bishop Julito Cortes said he was joining the family and the rest of the province in mourning the death of the 62-year-old local official.
"I am one with all of you in this time of grief and sorrow as we mourn the passing of Governor Carlo Jorge Joan 'Guido' Reyes," Cortes said.
"I send my heartfelt condolences to the family of Governor Guido as well as to his close collaborators in the Provincial Government. Please know that I remember all of you in my Masses and personal prayers," the Catholic prelate added.
Cortes urged the people to pray for the reposed soul of the governor.
"May the Lord of resurrection and life mercifully welcome the soul of Governor Guido into heaven and lead him to the place prepared by Jesus himself where there is no more pain and suffering," he said.
At the same time, Cortes thanked Reyes for his dedication to serve his constituents.
"Allow me to take this opportunity to express my gratitude and appreciation to the late Governor Guido for his commitment and service to the people of Negros Oriental," the head of the Dumaguete diocese added. (PNA)