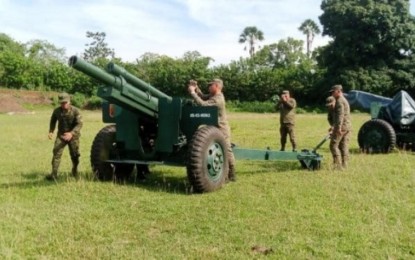 MANILA – The Army Artillery Regiment (AAR) tested the operational readiness of all firing platoons of the nine field artillery battalions deployed nationwide from May 1 to 30.
In a statement Friday, Philippine Army (PA) spokesperson Col. Xerxes Trinidad said this came following the holding of its 2023 1st semester Operational Readiness Site Inspection Test & Evaluation (ORSITE) which inspected, test and evaluate an artillery unit's overall operational preparedness.
"It (ORSITE) also assesses the competency of the gun crew to execute the tasks assigned to them as well as the firing units in providing accurate and timely artillery fire support to the maneuver units," he added.
Trinidad said all firing platoons were also evaluated in terms of logistical management, maintenance standards, personnel qualification profile and security measures implemented in the camp or fire bases they occupy.
"To reinforce the performance of these units, AAR shall provide feedback and assessment after the conduct of the evaluation and subsequently award the deserving battalion with remarkable performance as manifested by the results of the evaluation," he noted.
The ORSITE is also among the AAR's series of proficiency tests that reinforce the thrust of the Army leadership to enhance the individual skills of soldiers as well as unit competencies. (PNA)