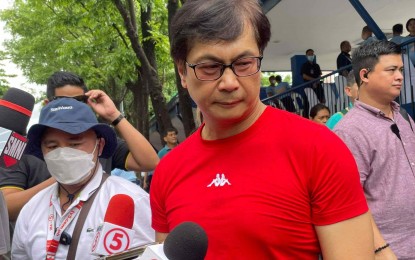 MANILA – The Department of the Interior and Local Government is standing by the Philippine National Police (PNP) against allegations of torture made by some suspects in the killing of Negros Oriental Governor Roel Degamo.
DILG Secretary Benjamin Abalos Jr. on Friday defended the police force, saying it is expected of such a sensational case.
"I have firm belief in the PNP kasi nga ito kung maalala ninyo (if you can remember), this is a very sensational case. Nung nangyari ito, maraming namatay at mataas ang ating emosyon noon pero nahuli kaagad sila (When this happened, a lot of people died and we have high emotions here but they were immediately captured) at I would like to emphasize at this point, ang nakahuli ay sanib puwersa ng military, police and of course, tumulong na rin bandang huli ang NBI rito (they were caught through the joint efforts of the military, police and of course, the National Bureau of Investigation also contributed here)," Abalos said on the sidelines of the opening rites of the sports and cultural fest of the anti-illegal drug program BIDA (Buhay Ingatan, Droga'y Ayawan) at Camp Crame in Quezon City.
Ten suspects in the March 4 slay -- Jhudiel Rivero, Dahniel Lora, Romel Pattaguan, Rogelio Antipolo Jr., Joven Javier Winrich Esturis, Eulogio Gonyon Jr., John Loui Gonyon, Joric Labrador, and Benjie Rodriguez -- have recanted their testimonies and claimed coercion and torture by the police to admit their involvement.
Abalos said the cases filed against fugitive Negros Oriental 3rd District Rep. Arnolfo Teves Jr. in relation to Degamo's killing remain strong despite the suspects' withdrawal of statements.
"Yesterday, I had a meeting with SOJ (Secretary of Justice) Boying (Remulla). I told him the case has been filed with the DOJ (Department of Justice) and he assured me, 'huwag kang mag-alala, malakas ang kaso' (don't worry, the cases are strong) despite these recantations and of course, we still have other cases against Cong. Teves," Abalos said.
Abalos said they still have circumstantial evidence that would link the suspects to the case.
Earlier, Senior Deputy State Prosecutor Richard Anthony Fadullon said the recantation of the suspects, most of them dismissed soldiers, was an anticipated development.
"As far as the DOJ is concerned, we expect that recantations will be made by suspects. It is their right to do so especially now that they lawyered up at this time. To say that they recanted, assuming that we received the copies already, doesn't mean that the recantations will prove that the earlier statements they gave are actually untrue," Fadullon said.
Random drug testing in DILG offices, LGUs
Meanwhile, Abalos said random drug testing will be enforced in DILG offices as well as in local government units under the department's supervision.
Those who will test positive for prohibited drugs may be booted out from the service but only after the evaluation undergoes due process.
Abalos further warned that if initially tested negative, an employee should not be complacent as random testing will be a continuing process.
"Meron naman talaga (random drug tests) sa gobyerno (There are random drug tests in the government). There should be really random drug testing and kami naman sa hanay ng DILG (at the DILG), we are going to implement it kasi napaka-importante nito eh (this is very important),'' Abalos said.
He noted that the DILG has focused its illegal drug campaign on the "supply reduction" aspect, stressing that the strategy is very valuable in the 'demand reduction' for illegal and dangerous drugs.
Abalos said the DILG took it upon itself to seek the assistance of the private sector in supporting the government's whole-nation approach in the anti-illegal drug campaign through random drug testing of their staff.
"It's up to them (private firms). It could be a reprimand, it could be suspension, it could be dismissal from service pero (but) one thing is important, may drug policy sila (they have a drug policy) like a random drug testing,'' he added. (PNA)