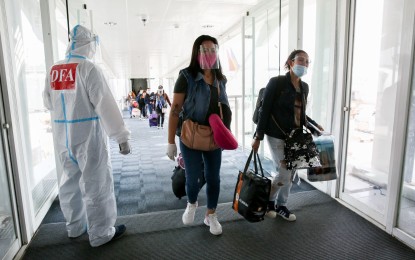 MANILA – Kabayan Party-list Representative Ron Salo on Friday warned overseas Filipino workers (OFWs) and those planning to seek job overseas against illegal recruiters who may take advantage of the "one million jobs" offered by the government of Saudi Arabia.
"Our people must be vigilant against unscrupulous individuals who may exploit their aspirations for a better future," he cautioned, adding that "our prospective migrant workers need to ensure that they only deal with authorized recruiters," he said.
Salo, chair of the House Committee on Overseas Workers Affairs, commended Department of Migrant Workers (DMW) Secretary Susan "Toots" Ople for the remarkable achievement of securing 1 million job opportunities for skilled Filipino workers in Saudi Arabia.
He said this "great news" is a testament of the Marcos administration's unwavering commitment in uplifting the lives of Filipinos and providing them with better job prospects.
"While we acknowledge the challenges we face in Kuwait due to the visa ban on Filipinos, this significant opportunity in Saudi Arabia presents a ray of hope for our skilled workers. It is an opportunity for them to showcase their skills and contribute to the growth and development of both countries," Salo said.
Salo expressed the urgency for the DMW to swiftly prepare the necessary guidelines for the implementation of the special hiring program and ensure that the competencies of the applicants are aligned with the job requirements.
"Time is of the essence, and we must act swiftly to seize this opportunity. The DMW should work hand in hand with all relevant government agencies, including the Technical Education and Skills Development Authority, to ensure that our workers are equipped with relevant skills and training," he said. (PNA)