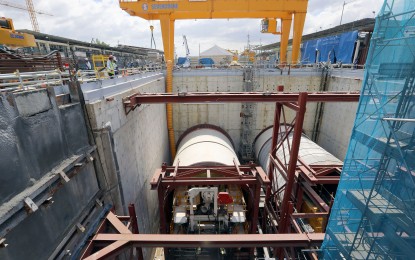 MANILA – While the construction of the Metro Manila Subway Project (MMSP) is still underway, a lawmaker on Friday emphasized the need to establish a corporate structure and legal framework needed to manage the future subway system.
House Bill 8509 (HB) proposes the establishment of the Greater Capital Region (GCR) Subway Corporation to ensure the construction, operation, maintenance and/or lease of subway rail transit systems in the Philippines.
Bill author and Bagong Henerasyon Party-list Rep. Bernadette Herrera said it is imperative to provide an organizational structure that will oversee the effective implementation of the PHP488.48-billion Metro Manila Subway that is slated to be operational by 2028, including its construction and operation.
"We want to make sure the GCR Subway Corporation will be up and running before the subway is ready to operate," Herrera said.
HB 8509 gives the GCR Subway Corporation general and specific corporate powers and authority to incur domestic and foreign debts.
The foreign debt authorization is set in the bill at PHP300 billion of total outstanding debt, excluding interest.
The initial authorized capitalization of the GCR Subway Corporation is also PHP300 billion.
Management will be vested in an administrator and two deputy administrators.
The subway corporation will have a Board of Directors with the Secretary of Transportation as chair.
The bill's tax exemption provision covers the importation of equipment, machineries, spare parts, accessories and other materials, including supplies and services, used directly in the operations of the Metro Manila Subway system, not obtainable locally on favorable terms.
Proceeds from foreign loans, credits or indebtedness, shall, likewise, be exempted from all direct and indirect taxes, customs duties, fees, imposts, tariff duties, compensating taxes, wharfage fees and other charges and restrictions.
In January, the Department of Transportation officially began the construction of the MMSP through tunneling works for CP 101 which includes the construction of a depot in Valenzuela City, and three stations.
The MMSP will stretch for 33.1 kilometers and have 17 stations connecting Valenzuela City to Parañaque City, with a spur line to the Ninoy Aquino International Airport Terminal 3 in Pasay City.
Once completed, the subway is expected to reduce travel time between Valenzuela City and Pasay City from one hour and 38 minutes to only 45 minutes and is capable of serving up to 519,000 passengers daily.
In April, the DOTr announced that the construction of two more stations along Quezon Avenue and East Avenue in Quezon City is now ongoing. (PNA)